On any given day, most inboxes are flooded with a large number of unread and boring marketing emails. Sometimes, these emails end up being unread, or the recipient unsubscribes altogether. There is no doubt that email marketing is a huge and effective part of digital marketing. Did you know the average ROI for email marketing is $42 for every $1 spent? The success of your email marketing campaign depends on the effectiveness of your emails. 
Before moving ahead, let's have a look at the statistics related to email marketing.
77% of experience increase email engagement in the last year
According to Statista, by the end of 2023, email marketing revenue will be around 11 billion.
B2B marketers say new product and feature announcement emails have the highest click-through rate.
We are applying our email knowledge to use and are going to enlighten you on how to write great marketing emails. Are you ready for it? Great! Let's get started.
First of all, it is vital to understand that you can't write anything in the subject of your marketing emails as it plays a key role in the email open rate. If you get the subject line correct, then the chances of your target audience opening and reading the email get very high. It is important to understand that writing an email is a combination of art and science. With the right practice and tools, one can excel in it.
Keep your subject line short and sweet, as most mobile devices only show 30-45 characters. So, what makes a subject line suitable? The answer lies in the following points:
Generate more qualified leads with cold outreach!
Things to remember while writing the subject line:
Try to incorporate actionable language without relying too much on verbs. For instance, instead of using "Buy tickets for Mickey Mouse concert." use "Ready to meet Mickey Mouse in NY.".
Everyone loves personalization. Instead of going generic, provide personalized subject lines to the email recipient. For example, if a person is looking for a rental place, use "Renovated 1BR apartment for rent in New Jersey, schedule a meeting.".
Play with words, but ensure that clarity remains the top priority. If the message that you provide in the subject line is vague, it can mislead the prospect. This can affect their trust in the sales reps. 
Subject line mistakes that kill the mission:
Excessive use of emojis
No context about the email drafted
Won sweepstakes or lottery are old and ineffective tricks, and messages like this can trigger the ESP, which can harm the reputation of the email address.
The overly formal tone creates boredom
Long subject lines are no good
Sync your subject line and email copy
How to write an email body?
After grabbing the attention of email recipients through an amazing subject line, now is the time to move to the next exciting part, i.e.: The email body.
Relevance

This email from SalesLoft uses mixed emotions to catch the attention of the reader. Even they have the reader update their preference so that the reader can get a more personalized email experience. Its copy, "Happy Inbox, Happy Life" is simple yet conveys the message very directly. Plus rather than focusing on what's trending, they have given preference to buyer's choice by writing, "We want to send you style news that you can use".

Plus their style tip at the end is bingo. Of course extra points for simple CTA, "free shipping on all orders of $125+".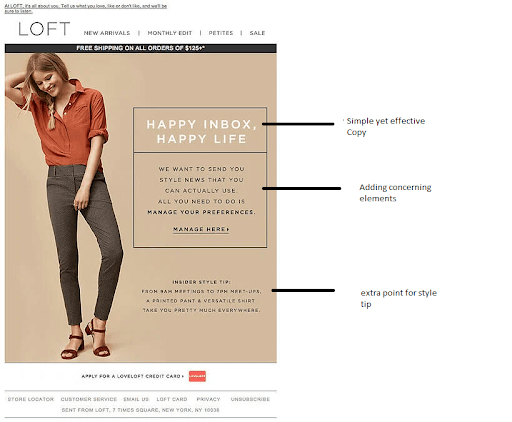 Write in the Second person

Writing in the second person means using "you" to address the reader. Doing this the reader becomes the main character of the copy and that is second person writing can be found in most self-help books. Well, look at this email from the J.Crew factory that is offering a solution to wrapping gifts. The use of the second person helps to connect readers directly as most of the time, they might be facing the same problem.

They have wisely put their store map at the end so that readers can just head up to their store. Well, you can also try SendBuzz for email marketing campaigns. By the way, it has become a prime reason for many successful campaigns.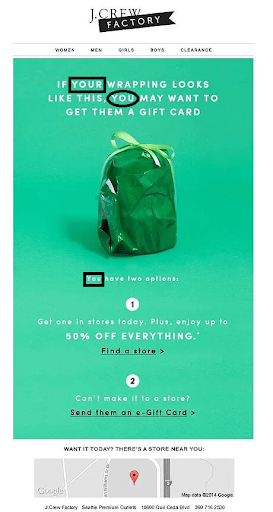 Sell Them Benefits and Not Features

You might know the value of your business and how it can make a difference in the world. But does your potential buyer know about it? Well, maybe not. So instead of trying to sell products or features to them, show them the benefits of using your products/services.

Once you tell them how effective and beneficial they prove in their life, then jobs become easy. Let's understand this through email. In the example below, the main product is men's shorts. But their focal point of discussion is now to instantly upgrade different styles using shorts. This is a simple yet effective way to earn value from readers.
A pinch of humor, please!

Using humor in email can be a natural choice for many brands but most of them tend to avoid it. There are certain audiences you might not be able to take well and it can backfire. While going for the humor element, ensure to avoid political views as people have different political views.

One such witty humor example is Quip, an e-commerce company selling electronic brushes. They have captured the spirit of Valentine's Day with witty content and beautiful design.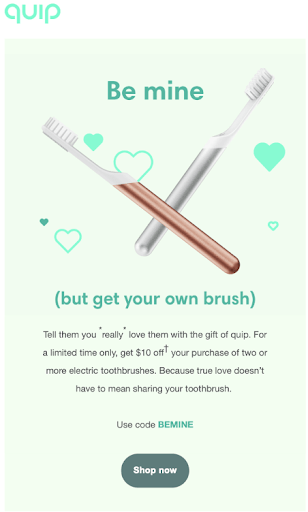 Be Precise

Most readers might not have time to read each word of the email. Too long email writing kills the interest of the reader. It is advisable to go for precise and short content. Instead of telling them your whole story from beginning to end, capture their attention with the summarized story in a compelling way.

Apple best captures the spirit and presents it beautifully. Below is just an example from its product launch series. This email leaves the reader wanting to know more and they will immediately jump to the "free trial" option.
Use actionable CTA language

Last but not least comes CTA. Ensure that you use actionable CTA. It should be very easy to understand and should be loud about the action. You can also include the CTA button like Amazon generally does in their emails. You will be surprised to know that sometimes plain-text emails also do well if the copy is exceptionally great.
Want to grow your outreach? Try SendBuzz today!
We hope that now you have understood the important elements that can turn a normal email into a witty one. For those who don't have time and find it difficult to turn leads into customers, then you can give try to SendBuzz to develop the most customized and witty emails.
An effective email marketing campaign can be effective only if you are able to catch the breath of your readers. To know more, get started today.