Email marketing has arisen as a catalyst for thriving businesses. Nowadays, every business needs exposure to the internet, so it's a good idea to use the internet to benefit your business. Email marketing mainly promotes and boosts your business with proper management. There are a lot of automation platforms in the market which manage email marketing and help the business grow.
We will elaborate the email marketing automation platforms, their benefits, and a few best automation platforms like SendBuzz. Let us start our discussion.
Email automation tools can make a huge difference for the businesses by helping them sending emails to existing and potential customers or users as and when needed. Usually, writing and sending emails to customers is quite a tedious job, but email automation platforms have solved all the problems related to sending emails.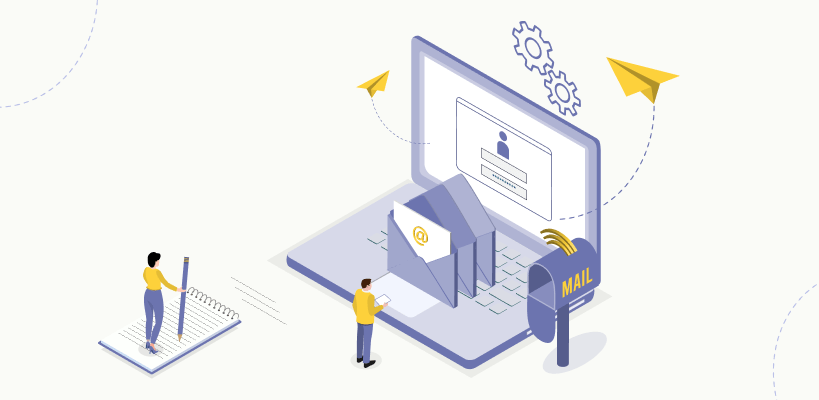 Sending the right email at the right time has proved very beneficial for any business, and email automation can do this task more efficiently than manually done by the inhouse sales or team. For example, if a customer has just created an account on your website, then email automation will send the welcome email to the customer, this helps to connect them directly.
Besides this, whenever you offer any discount, free products or sales on your business, sales engagement software will send this information in the format of an email to all registered users. This will help a business to grow more. The regular necessary emails from your business create a good image of your brand in the mind of the customers, and this can hook the customers to become your regular customers.
This is how of email automation software works to enhance the business. The primary features of email marketing automation platforms are providing email templates, allowing for creating landing pages, permission for creating personalized messages, no limit for running campaigns, etc.
Here is when you can trigger an email for your existing and potential customers:
When they sign up on your platform/website
Weekly updates
Reminder emails for promotions and payments
Sales outreach emails to your prospect reach
Automated sequences for omnichannel outreach that includes email as a channel
E-commerce emails including checkout emails, abandoned carts and more
Newsletters
Let's dig in by understanding the benefits of email automation for your business.
Want to know how to write great copy for marketing emails?
Generate more qualified leads with cold outreach!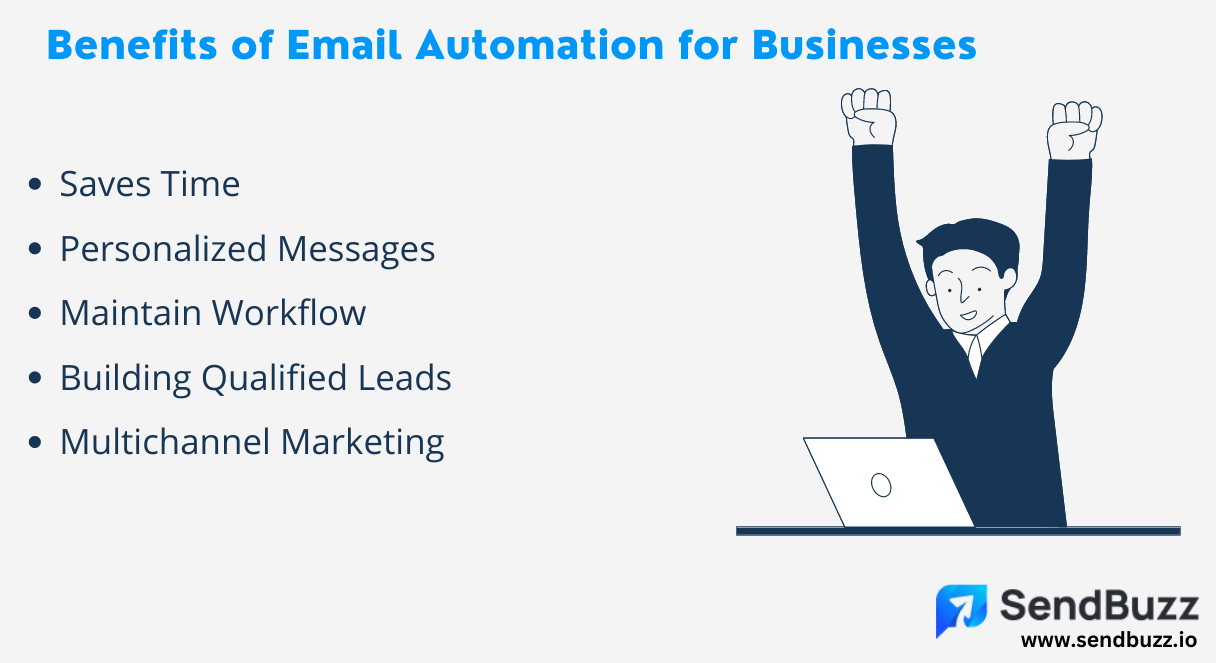 Benefits of Email Automation for Businesses
It's every marketers dream to reach out to their audiences at scale with personalized message. This can be achieved manually but might not be cost-effective, at the same time will be more time consuming. Read on to know the different ways in which you can automate your email outreach.
Saves Time​
Email automation has proved to be a beneficial tool because it is really helpful in saving the time of the marketing team of an organization by completing their tedious tasks of sending regular emails.
Personalized Messages
Email automation is good at creating personalized messages according to the customer's activity, like reminder emails, product recommendation messages, and information about new arrivals on the website or stores of your brand, so this can also be considered a benefit.
Maintain Workflow
Email automation helps maintain the workflow of the business by taking steps toward reaching out to new customers and making the process easy from prospect to purchase. If you choose the right email outreach tool, you will be able to trigger actions for your users' actions automatically.
Generating  Qualified Leads
Email marketing automation helps to build new leads and connections. This plays a role in expanding the recognition of your business or brand and increasing engagement with your business.
Multichannel Marketing
Email marketing is an approach to multichannel marketing. Email marketing plays a role in sending updates about your business through email and targeting customers. The emails include features and offers related to your products for increasing engagement and sales.
Types of Marketing Emails
Email marketing automation includes tool that help marketers reach out to the prospects. These tools helps marketers create marketing campaigns, test your  email campaigns, give sales reports and more. It's very important to catch customers' attention towards your brand for the welfare of business sales. It's not only about initially capturing the attention; it's about maintaining regular interaction with the customers through emails so that customers could consider your brand as an option while necessarily.
So, here we shall have a look at the common types of marketing emails.
1. Email Newsletters
Usually, email newsletters are sent to maintain regular interaction with customers. Email newsletters consist of messages about information about events, upcoming deals, sales, offers, announcements of new products, and requests for feedback. This is how email marketing automation tools successfully nurture customers via email newsletters.
2. Stand Alone Emails
Stand-alone emails resemble dedicated emails for any special offer or call to action. These emails are sent with only one aim or message. If you have email templates, creating stand-alone emails is quite easy compared to other marketing emails.
3. Onboarding Emails
Onboarding or welcome Emails are usually sent to customers when they register on your brand website or visit your store. These emails make customers believe in your authenticity. Welcome Emails have helped cover the journey from prospect to buy goods and services.
4. Sponsorship Emails
Sponsorship Emails are basically for promoting the goods or services of your brand. These emails consist of advertisements for your brand. The concept of sponsorship Emails is based on the strategy of paid media for the promotion.
5. Transactional Emails
Transactional emails are sent to complete any unfinished action initiated by the customer. Usually, these emails are sent to complete the signup process or recreate the password. Sometimes transaction emails include thank you for logging in or other messages.
Want to grow your outreach? Try SendBuzz today!
Final Takeaway
Email marketing helps you achieve your goals. This article was about email marketing automation tools. We've described the basic details. We've described some of the best automation tools so that you can look at them. SendBuzz is a multi-channel outreach software that helps your sales team convert faster and lets marketer run email campaigns.
Frequently Asked Questions
The email service platform allows you to send email campaigns to several subscribers.
LinkedFusion and SendBuzz are considered the best tools for email marketing. This software helps you to achieve your marketing goals.