Because email marketing makes use of a platform that people already frequently use, it offers the capacity to nurture leads. 
But not everyone makes effective use of email marketing as they approach the client without a prior plan. The market size of email marketing is  $7.5 billion in 2020 and to increase to $17.9 billion by 2027. 
You can profit from this sizable market by employing a successful email marketing plan. You can optimize your email marketing with a smart, targeted approach instead of just sending your leads email after email. 
Optimizing email marketing enables you to learn from previous email marketing campaigns, optimize current marketing initiatives, and build measurable brands using real-time data.
It's simple to put email marketing on the back burner as you create a comprehensive marketing plan. However, email marketing has been shown to have advantages for owners of small businesses, from increasing sales to establishing the credibility of your brand. 
You can select the goal that you want to reach. Then select the key performance indicators (KPIs) that are most essential for your company and monitor how they change as a result of your marketing initiatives.
Gradually modifying your efforts in light of these outcomes, can result in a discernible rise in the success of your email marketing.
The certainty of your program goals is another advantage of having an email marketing strategy.
Your uncertainty disappears when you have a successful email marketing strategy. You don't need to consider whether or what kind of emails you should send while deciding whether or not to send one. 
These are the items that your marketing plan describes for you.
Marketing strategy makes it simpler to follow through marketing goals, avoiding procrastination. Setting up a dependable email marketing routine when you simply have to adhere to the plan you worked out for yourself.
Not only that, email marketing is one of the most rewarding and economical mode of outreach campaign compared to any other channel and marketing methods.
Generate more qualified leads with cold outreach!
How to create an email marketing plan?
A mechanism for choosing how frequently, what sort of content, and to whom to send emails is necessary for developing an email marketing campaign.
It's crucial to follow the process from beginning to end rather than skipping straight to the phase where content is created. You can only benefit from a robust email marketing strategy when all the elements of your marketing plan are operating in unison.
Step 1: Setting goals and success metrics
When making the strategy for any marketing plan you must consider where your email marketing is pointing towards. Example: which metric are you focusing on like opening rate, click-through rate, or bounce rate?
For your forthcoming email marketing initiatives, start by establishing one SMART (Specific, Measurable, Attainable, Realistic, Time-Sensitive) target. Like if you have decided to make the focus metric to be the open rate then a 5% increase in this rate at the end of the year should be the target.
This gives you the benchmark that your sales reps have decided to achieve.
 In the aforementioned example, you will have achieved your objective if your click-through rate is 5% higher after the quarter.
You should choose the measures you'll use to gauge success when you create your goals. These KPIs ought to be closely related to your objective. Your KPI would therefore be your click-through rate in the example above.
As you gain control over your email marketing plan, you can determine that you can focus on a variety of objectives — and success indicators — every three months. However, focusing your efforts and establishing one goal and one KPI from the outset will help you achieve actual success.
Step 2: Doing target audience research
Knowing the target audience is another step that you should take before planning your email marketing strategy. Research further than just knowing the age and gender, make a persona of the buyer or the recipients that you are dealing with.
To know how to make a buyer's persona and types of buyer's persona, read Significance of Buyers Persona in Email Marketing
Knowing your audience better can be accomplished by developing a customer persona. This in-depth investigation of your target market covers specifics like their interests, passions, and objectives. This is significant since 71% of consumers prefer to purchase products from companies that share their values.
Once you've identified your target market, you can look into the kinds of material that would appeal to them the most. Research on the target audience may include:
Surveying clients for satisfaction

Requesting information from your sales staff regarding their interactions with clients

Observing what your rivals are doing

Examining your blog to determine which posts get the most attention

Evaluating your participation on social media

Collecting information on the behavior and purchasing patterns of your target market
Analyze the result of the research that you have done especially on the metrics that are important for the company.
Example: Let's say that you are a B2B company that deals with businesses that focus on sales then your email message must focus on increment of the sales.
These ideas might catalyze thinking and assist you in creating compelling themes and subject lines for your email.
Step 3: Reviewing marketing results of previous campaigns
To create objectives for this year, you should conclude your end-of-year marketing report. Consistent improvement in your email marketing can be done by analyzing the report of the previous year. This can provide you with insight into where your marketing strategy might be missing.
Your year-end marketing audit can also demonstrate which non-email channels your clients used to interact with you. You may avoid creating the wheel from scratch or making the same mistakes again by having a thorough view of which marketing channels and approaches work best — and which ones require improvement.
A successful email marketing plan includes segmenting your email lists as a key component. This is because not every one of your clients has the same requirements.
Step 4: Creating list segmentation
You can deliver recipient-relevant emails by segmenting groups with various demands into separate email 
lists.
This can boost your email open rate, establish your brand as an authority on the issue, and enhance lead nurturing efforts when combined with a compelling email header. You can use indicators like budget, company size, location, business niche and many more to filter out the right audience for your email marketing campaign.
Step 5: Target right date and time to achieve good results
You'll be prepared to begin adding items to your email marketing calendar once you've reviewed your prior marketing efforts, established your goals, and segmented your email list.
The first thing you ought to do is mark important dates on your calendar so you won't forget them. This might comprise:
Important occasions

Product introductions

Charity initiatives

Business activities
Find out how much time you need to start promoting for each important date before it. To help you remember to create material on those dates, highlight them.
You can schedule the remaining email campaigns to coincide with the dates you've previously specified as you start to plan them. By doing this, email campaigns are kept separate from one another.
To know what is the best time to send emails, read best time to send marketing emails.
Step 6: Plotting campaigns on an email marketing calendar
The last — and frequently most exciting — step in creating your email marketing strategy is scheduling your actual email campaigns on your marketing calendar.
You should consult the notes you made in stage Two regarding your target audience for this stage. Create a list of potential campaign ideas using these notes and your target audience's propensity to connect.
After that, assess your suggestions in light of your email marketing objective. Highlight marketing strategies that seem to fit your stated goals and KPIs the closest.
When you are running a real sale, it is the only time this rule applies. Sending promotional emails that highlight the sale in this situation is acceptable. When you do need to send promotional emails, your clients will be more receptive if they are used to receiving high-quality content from your brand.
Step 7: Planning time to craft your emails
You can avoid procrastination by setting aside a particular period each week to write the body and headings of your emails. These days, even AI content generators are there, that will be able to help you do the copy-writing better.
Email creation will become simpler the more frequently you do it. In time, creating excellent email newsletters will come naturally to you. You won't fall behind if you set up a specific time to write your emails. Following the dates on your calendar is essential to reaching your objectives when you have a thorough marketing calendar.
Knowing that you adhered to your timetable and gave it your best effort will help you accurately evaluate your outcomes when it comes time to audit your email marketing success and compare your KPIs to the SMART objective you set.
You may then adjust your procedures and establish objectives for upcoming email marketing campaigns as a result of this.
Tips for creating high-quality email marketing campaigns
Without similarly great email content, you're unlikely to succeed even with the best email marketing technique. Your emails will stand out if you know how to expand your email list, write emails that appear professional, and give your customers real value.
Customers are less likely to delete your emails without reading them and more likely to genuinely read what you have to say and get anything from it if they routinely have great experiences with your emails.
Tips for Email Marketing Strategy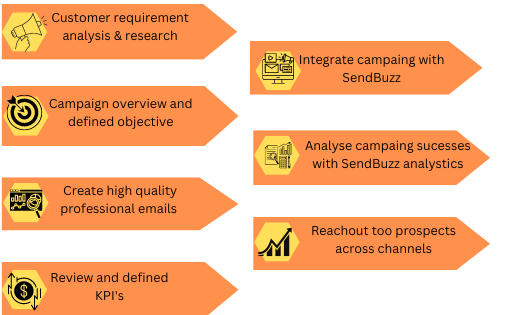 Email deliverability
All your efforts will go in vain if your emails does not reach the primary inbox of your recipient. To establish the sender's reputation its important that you update domain authentication of your email address. A key factor that your emails are not hitting recipient's inboxes is because you have not configured the SPF, DKIM and DMARC records. Doing this will increase the email deliverability.
Create a smart sequence
A sales engagement software like SendBuzz lets you create sequences. You can schedule these to reach prospects even in your absence. This kind of smart sequencing lets you reach out to prospects with consistency.
Features like flow testing and A/B testing help you reach out to prospects with emails that are more appealing.
Analyze your email performance
When sales reps do sales on a sales engagement platform they generate a lot of data. SendBuzz offers you a dashboard where you can analyze data that shows the gap where your email marketing strategy cannot reach the market.
Know automation in email marketing can boost your email marketing strategy – A Detailed Guide on Email Marketing Automation 
Want to grow your outreach? Try SendBuzz today!
Conclusion:
When you have a clear understanding of the target that your email marketing is targeting, it is easy for the sales rep to aim for it. With these email marketing strategies, you can reach out to the prospect with the right message at the right time.