What is the drawback of written communication?
Let me guess: it would be that you are not in direct connection with the receiver of the message.
So, how can you make them more interactive?
Primarily, you should have an in-depth understanding of the person for whom you are drafting the message. The second would be to make it more interactive. When it comes to making your subject line more appealing, both of the above factors play a big role.
To get a better understanding of your customer, it would require you to create a customer persona. To make it more interactive, emojis can aid you with this problem.
Now, the big question here is: can emojis be used in the subject line?
You would expect a definite yes or no, but it is not that simple as many variables influence the use of emoji in the subject line.
In this blog, we will discuss various factors that affect the use of emoji in the subject line of your email.
Emoji is a small digital image, visual or icon used to express emotion or concept. In other words, it is a form of nonverbal communication. There is no defined meaning attached to them, the message they convey is implied. They are frequently used in informal communication to express emotions or to convey a specific message.
Below are the list of the most popular emojis:
🫶 Heart Hands

❤️ Red Heart

😊 Smiling Face with Smiling Eyes

🔥 Fire

🥹 Face Holding Back Tears
An interesting fact, about emoji's is that to attract Japanese customers, Apple hid an emoji keyboard in the first iPhone back in 2007, but North American users quickly became aware of the keyboard.
Now, we have a fair idea of what emojis are, so to see if they are a good fit for an email subject line or not, let's look at the different parameters that would help to analyze that.
With SendBuzz you can send automated emails with emojis
What is the effect of emoji on the open rate?
Emojis add an emotional quotient to the subject line at the same time they convey the message in fewer words.
So, can we conclude that emojis definitely have a positive effect on the email subject line? 
No, as it is just one part of the story. Using emojis is risky, as they can send your emails to spam if the recipient does not like it or they are not open to emojis. 
Many times, when sales reps use emojis in the subject line, it may not be well received by the recipient. Therefore, it is safe to say that "using emoji" is subjective to the audience, type of business, and, surprisingly, location, gender, and trends. 
It was observed in a survey that 58% of consumers will open the email with emojis in their subject line. 64% will open the email with their favorite emoji in the email subject line. 
This might convince you that using emoji will bring a positive result but an increased open rate does imply that you were successful in grabbing the attention of the recipient but still we are not sure that did they like the use of emoji or not. 
There is another important metric to consider before coming to a conclusion and that metric would be called through rate. 
CTR measures the percentage of recipients who clicked on the links present in your email which gives us an idea about the impression that was created on the recipient.
What are the factors that affect the use of emojis in the subject line?
When writing a subject line, it is important that your subject line is compelling enough that the recipient opens and reads it.
What are the key elements that make your subject line compelling?
Consider a recipient's inbox; it is full of emails, all of which are written with the intention of capturing the recipient's attention.  
However, you can always up your game by using phrases and tools that will make you stand out in the recipient's inbox.
Using emojis to get attention can be effective, but there's a catch here. It's possible that you can get attention for the wrong reason.
What if you are noticed, but you have irritated the recipient? 
I guess that is not something you want. Right ?
The subject line and preview gives a first impression to the recipient, which can weigh heavily on their decision to read your email and act upon it.
 Hence, before using an emoji, create a buyer's persona. Making a buyer's persona will help you know the pain points and triggers of the recipient. 
This will help you decide whether to use emoji or not, as well as what to write in your subject line so that the recipient can relate to it.
Automation has made it easy for marketers and sales reps to approach prospects with hyper personalization at scale.
Dynamic content is one aspect of technology that helps you automate sending of emails to people according to their needs, gender, and place in the customer journey.
This stands true for emojis in the subject line as well.
How so?
In a study, it was observed that 72% women and 67% men find emojis fun, and normal. And also other channels where emojis can be used by brands as people are more responsive and open to them are text messages (37%) and social media (28%).
Now you can get an idea about why not to prefer emojis when dealing with male recipients.
Again this does not hold true for all but for a majority.
When it comes to segmenting on the basis of where the prospect is in the sales pipeline it is better not to use emojis with cold emails.
 As emojis give an impression of the familiarity which is not established when you initially approach the prospect in a cold email outreach.
It is preferred not to use emojis when they are in the early phase in your sales pipeline.
Again another factor that can influence the decision to use emoji is age.
 According to Slideshare 83% of Gen Z'ers agree they are more comfortable expressing emotions through emojis against phone conversion compared to 71% of millennials, 61% of Gen X'ers and 53% of boomers.
From the above data you can see that Gen Z'ers would take it more positively if the emojis are used on the email subject line as they are more comfortable with using emojis in general.
One exception to the general rule is in account based marketing where the size of deals is usually big and the approach towards the engagement with the prospect is more personalized.
 So, when drafting the subject line of these brands be more specific to their individual preference.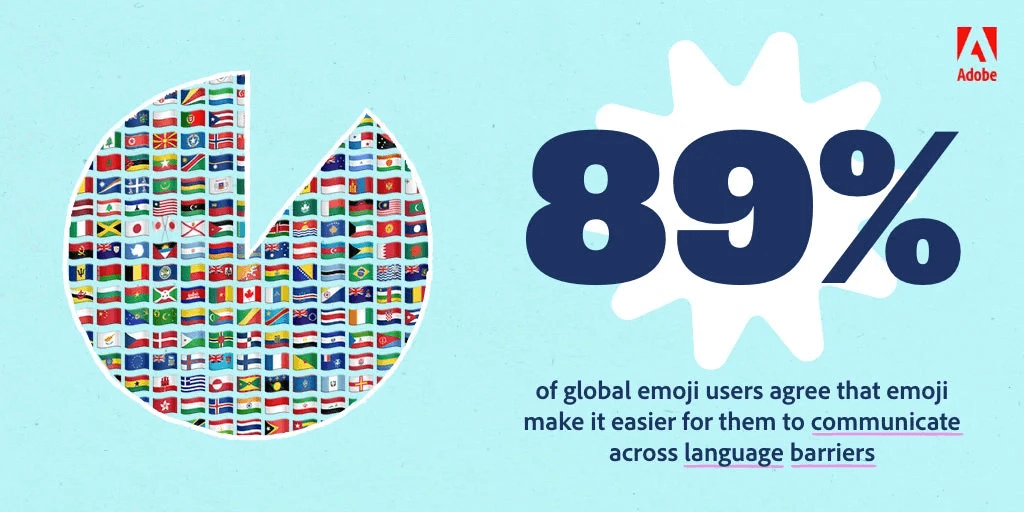 According to Slideshare Emoji's ability to communicate across language barriers and instantly share thoughts and ideas are the greatest benefits to emoji users.
From the above data we can observe that use of emoji's helps the user to expand the spectrum of communication across different languages.
Use the emojis according to the context
The last factor is more on the side of the correct use of emoji rather than the use of emoji in your subject line all together.
 As there is no defined meaning of emoji it is important to know the message that your emoji is communicating if you decide to use the emoji.
Do emojis improve the CTR ?
It is up to you as a marketer or sales representative to determine whether the use of emoji will have a positive impact on the prospect.
 Using emoji increases the likelihood that your message will be seen in the recipient's inbox. 
This can work in your favor if the analysis of the factors influencing the use of emoji is correct. Simply put, you know when to use emoji and when to avoid them. 
At last, we would give you some tips on ways in which you can use emoji in your email subject line.
How to effectively use email in your subject line ?
Once you have decided to use emoji in your subject line, using them in an appropriate way will enhance your engagement with the prospect.
 So, below are some tips and tricks that will guide you on how to use emojis in the subject line that will increase your open rate. 
Don't overuse them, use emoji when you want to announce  some special event coming up. Use the novelty factor for some big event when the attention that you are expecting works exponentially for your organization. 

Don't use emoji instead of words but use them to enhance your words. Different platforms display emojis in different ways so to avoid confusion don't replace words with emoji.

Convey emotion with the help of emojis. This can help you convey the tone of your subject line easily.
Want to grow your outreach? Try SendBuzz today!
These were some tips that would help you. Still, we would recommend using them as a reference. No one can give you a quick fix for how you can use emoji. That you have to find yourself with trial and error.
With the help of A/B testing you can know:
The prospect's response on adding emoji in your email campaign.

Which emoji gives you best result
With experiment and experience you will know how you can use emoji to your advantage if you see using emoji is a good fit for your brand.