In marketing, sales, or design, everyone has to play around with the call to action in order to direct users to your intended position in the sales funnel to convert them into a paying customer. Once a user arrives at the intended landing page, you need them to take the action so that they can end up as a prospect and later become a paying customer.
However, if you want to provide a trigger to the end user i.e. prospect or customer about what you need them to do and guide them along the way so that take an decisive action you have to use a call to action. If they don't take any action or make the decisive choice, then your advertising efforts and email campaign could be wasted. And that is the reason why brands invest a lot in Call to Action (CTAs) and User Experience (UX) for their users.
A call to action (CTA) is an action that tells your potential customers what next step they should take in order to achieve a desired outcome. This could be to promote your discounts, promote sales on your site, provide more information by getting that user's data, and so on.
Here are some of the CTAs you can use on your website to let users take action:
Get a Demo

Click here

Download my PDF.

Sign up today.
The CTA content could be a button or a hyperlink. Clicking on the CTA completes the desired movement or takes the visitor to a desired page to make final actions.
The ultimate goal of having an effective CTA is to push your prospect to make a purchase decision. CTAs have to remove friction from the funnel to make the purchase smoother and let buyers take action.
If you do not provide a clear CTA on your landing pages or lead capture forms, traffic may not recognize what steps to take in order to get a demo of your product or purchase it. They ought to take the incorrect step or get pissed off and leave the web site online without acting on the preferred task. And that is the exact thing a business would not want to happen.
How do I design the perfect CTA for a website?
First things first, make a list of the advertising and promotional channels you have to market your product. List these items and make a clear road map of where your customers will see and interact with the product-related information on your digital platform.
If your brand is drawing maximum traffic from your blogs and informative articles, make sure to drive them to your main product pages and revenue-generating pages by providing interesting CTAs related to that page's information.
Depending on the industry you are serving and the types of users your products get, you can select a flow for them. The typical flow to designing a CTA is to find out the place where you will use the CTA on your website, create copy text that will lead your users to take action on your website, create a design and add colours that signify the brand outline and create urgency, and track them with a powerful analytical tool.
Here are some tips you might take to design a CTA for your website:
Define the stages of the Sales funnel.

The most important thing to remember is to define levels in your sales funnel. Make sure to divide them into the outcomes, i.e., the revenue you will generate, the branding you will get, or the active sales pipelines you will build from them. This will assist you in building effective CTAs by cutting down on clutter in your campaigns and offerings.

For that new visitor, an extra top-of-the-funnel offering like an insightful e-book or webinar is a better fit and thus much more likely to cause conversion for your brand.

For example, at SendBuzz, we recognise that the majority of traffic is interested in finding the correct answers to make their email outreach and multichannel outreach successful. Thus, we offer more value to our visitors and users by providing them with the correct information and content on our platform.
Target Persona of Your Blog Post

Define the persona of your target market and start designing the right CTAs around that persona. For instance, you can create specific blogs or columns where you can publish content that is related to a specific type of audience. Thus, it will become easier for you to design and develop hyper-personalised CTAs for your audience.
Offer Catchy Formats

The layout you use should be user-friendly and carry common elements from your site's branding. You can use various forms of CTAs to attract a variety of audiences, including asking them to download your PDF guides, join webinars, and more.

Take an examination of your advertising and marketing analytics to search for styles in clickthrough and conversion costs on CTAs for numerous formats to get a better feel of what works nicely with your audiences. You can always run A/B tests to find out the best formats and styles that help you convert more users on your websites and landing pages.
Subject Matter of The Content

Make sure that the content you provide is valuable to your audience. You cannot go ahead and offer random content to various audiences and their segments. The audience that organically comes to your blogs and content would be interested in enterprise-level blogs, dynamic content that can help them grow their revenue, or solutions that provide tools for their business problems.
Funnel Level of Blog Content

Just like you segment your audience before putting a CTA on your website, you should also check the funnel level of the blog post content. This will help you identify what type of CTA you are going to use for your audience.

For instance, if you have written a blog that solves the basic issues of your audience and provides generic niche information, that would be top-of funnel content, and the CTA you use there would be different than the one you put on the content where product-qualified users will come.

If an amateur audience comes to your blogs and website pages, you can ask them to learn more about the features of your product and educate them by guiding them to informative content. Whereas for a more mature audience that has product-level expertise, you can go ahead and offer your product demos and payment pages to get more.
Clickthrough and Conversion Rates

When you are updating your CTAs or putting new content on your site, make sure to measure traffic activities, clicks, and conversions on your digital products. This will help you identify the best-performing places to use your CTA and landing pages that get more traffic on your intended pages.
Generate more qualified leads with cold outreach!
How to Write a Call to Action
There are many approaches to writing a powerful CTA. How you write the CTA copy (in addition to the way you layout and region the CTA) can substantially affect how much internet site traffic you convert into leads and customers.
Consider the subsequent guidelines and techniques while writing your CTA.
Set a goal.

Before creating any advertising materials (e.g., touchdown pages, weblog posts), decide the aim of what you propose to create. The equal is going to write a CTA.

What is the aim of your CTA?

To appeal to electronic mail subscribers?

To inspire potential customers to download an eBook?

To grow product sales?

To get extra meetings?

Once you set an aim, you may write a CTA that will help you obtain it.
Use Strong Command verbs.

Tell the traveller precisely what you need them to do. Start your CTA with the movement you need them to perform.

For example:

Do you promote items or offerings online? Use "Buy," Purchase," or Order."

Do you need the traveller to download a white paper or report? Use "Download," Get," or Subscribe."

Do you need the chance to acquire extra information? Use "Fill out this form…" or "Click right here to touch us."
Use Words That Evoke emotion.

Include phrases and terms that initiate emotion to get a robust reaction from traffic. An easy way to reveal enthusiasm is to capitalise certain phrases and use exclamation marks (e.g., Get 50% off TODAY!).

Consider how the traveller will feel once they get hold of anything that follows after finishing the CTA. For example, if you are selling wholesome meal planning, attention is at the traveler's advantage (e.g., Build your wholesome lifestyle).
State a Key benefit.

Tie the CTA to your price proposition or precise promotion point. Focus on the advantage they'll get after they click on the CTA.

For example, if your carrier allows organisations to lower their prices, the CTA should state, "Cut your working prices by 15%." The textual content states the advantages of clicking the CTA.

Combine the CTA with the advantage. For example, the CTA should state, "Sign up for an unfastened software programme demo." It tells the traveller what to do and what they'll get in return.
Create a Sense of urgency.

Motivate your traffic with the concern of missing out. Use dates and phrases that imply there may be a restrained time to take advantage of an offer, advertisement, or sale.

For example, use phrases like "Today" or "Now," or terms such as "Sale ends on…" or "While substances last."
Keep It quick.

If you need to convey a feeling of urgency, then keep the CTA brief and sweet. Wordy CTAs are much less powerful than brief CTAs.

The best period of the CTA is 4–5 phrases. As said above, use robust verbs and write in an active (instead of passive) style.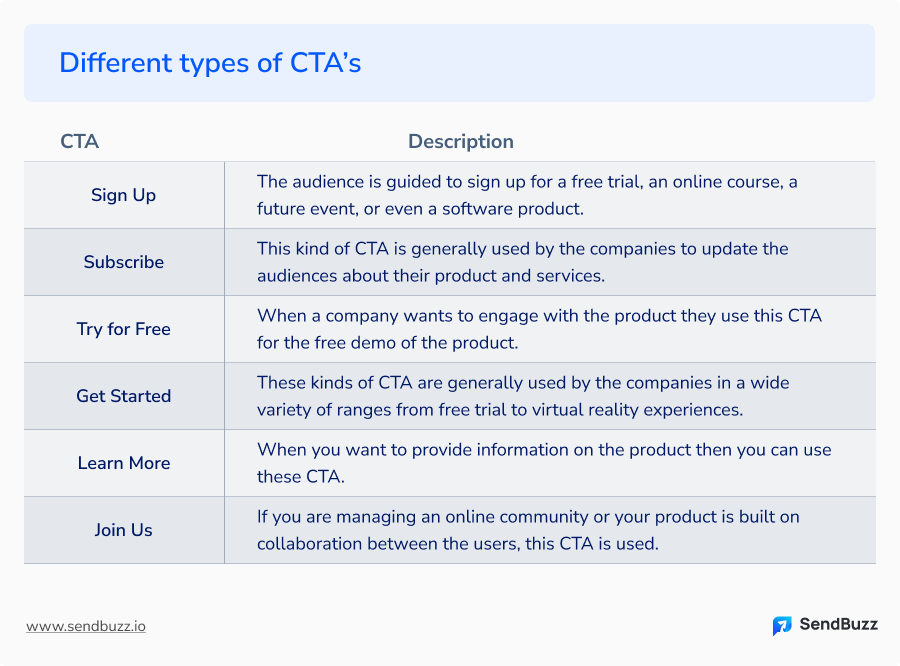 How to Optimise Your Call to Action
Once you've created a CTA, your paintings aren't always carried out. You'll need to discover ways to grow the quantity of internet site visitors who click on the CTA to become leads and customers. Consider the subsequent techniques to optimise your CTA.
Button It Up

You can surround the CTA with hyperlinked textual content or a graphic. However, buttons are the simplest way to encourage site visitors to click on the CTA.

According to research, the common CTR for CTAs is 4.23% across all industries, and this quantity will increase to 5.31% for buttons. For example, Copyblogger found that making CTAs appear to be buttons increased clicks for CreateDebate via this means by 45%.

People react to buttons; they understand that something will manifest once they click on them. We want to press buttons, and we count on a profitable payoff as a result.

Design the button to face out from the relaxation of the textual content. Make it an exceptional or vibrant colour, and make sure the textual content is simple to examine.
Adapt to the Device

It's not unusual to create exercises to create responsive websites and touchdown pages that adapt their format to the tool getting used to viewing the web page. Do the same while designing a CTA for a website.

Use a responsive layout to make CTAs easy to examine and pick out on small screens. During layout, test CTA placement and look at exceptional display screen sizes and the usage of exceptional internet browsers.

When your internet site is viewed on a smaller display screen, the CTA can also be scaled down with the relaxation of the web site. Make the website's CTA visible and stand out from the relaxation of the textual content.

Set cell possibilities for commercials with a CTA so that they are the easiest to find in searches concerning cell devices. Enable name extensions to show your smartphone quantity after the CTA.
Make It More personal.

Personalization is a powerful approach in all forms of advertising. It has been proven to paint notably well in email advertising, banner commercials, and different kinds of marketing and advertising.

Therefore, this is no longer applicable, which includes the traveller's call in each loop of the CTA. But you could use the amassed information (e.g., location, software, lead vs. traveller) to regulate the wording of the CTA for exceptional site visitors.
Put a Number on it.

People react to numbers in exceptional ways. Numbers are concrete and definite, and those who can visualise what they imply

Repeat the quantity out of your ad or landing page with inside the CTA. This emphasises the service you provide and demonstrates a hobby from the individual who clicked at the CTA.

Examples of numbers to place on a CTA include:

Prices, Discounts, Percentage saved, and time saved
A/B Test everything.

A/B testing is vital for all forms of advertising, such as touchdown pages and banner commercials. It provides actual information on what factors of your advertising get extra responses from site visitors.

You need to additionally A/B-check your CTAs. Test "traditional" phrases and terms in the CTA replica towards extra innovative variations of the replica to see which CTAs get extra clicks.

Test colours, fonts, button size, and button placement. Also check exceptional offers, as your target market may react more positively to one provider than another (e.g., an unfastened eBook as opposed to a one-hour consultation).
Optimise Them with AI.

Artificial intelligence (AI) is being utilised in an increasing number of programmes and software. It can now be used to optimise CTAs in real time.

Rather than doing an A/B campaign test, AI can perform A/B/C/D/E/… assessments of several factors on the web page and in the CTA. The AI analyses male or female site visitors' moves as they see exceptional variations of your lead capture pages and CTAs.

The AI no longer prices exceptional site visitors similarly in its testing. It weighs traveller behaviour, demographics, client status, and different elements while showing exceptional pages and CTAs to exceptional users.

AI is extra powerful than A/B testing due to the fact that it could check a couple of factors on the web page extra quickly. It optimizes CTAs and different web website factors in real time, which reduces the time to get feedback on what's working.
Call to Action Examples
As you've simply read, there are numerous techniques for writing and optimizing your CTA. However, you don't have to create a CTA from scratch, as there are numerous websites with powerful CTAs that can encourage you.
Check out the subsequent 5 examples of powerful CTAs.
Sendinblue

One of the most effective ways Sendinblue will use their CTAs is to convert their organic traffic to their consumers by creating a FOMO of losing an offer. This slide-in CTA located in an editorial discussing advertising intelligence demonstrates how a well-located CTA can enhance the consumer experience.

It's unobtrusive and springs in halfway via the object, now no longer best prompting readers to "download now" however supplying a beneficial and lose useful resource. The advertising package gives an out-of-the-container answer for people who won't realize where to start.
Why this CTA Works
This slide-in CTA gives a loose useful resource that is without delay associated with the subject of the object it seems on. Readers can end the object after which they download the manual with templates to begin creating an advertising package on their own.
The Budgetnista

Run via the means of private economic educator and writer Tiffany Aliche, The Budgetnista is a forestall keep for private finance. In addition to presenting content material that delights her audience, it is additionally seasoned at growing inviting CTAs.

Instead of in reality setting a sign on CTA to sell her newsletter, she makes use of language that entices the reader to click on it. "Sign Up For Weekly Goodies" sounds more exciting than "sign on for my newsletter." Who doesn't need weekly goodies?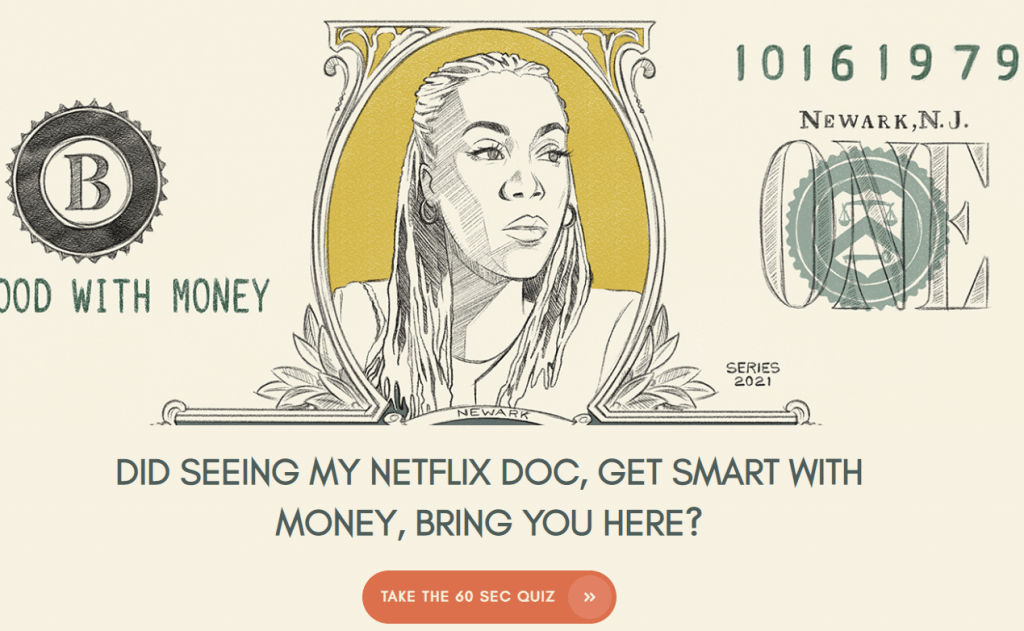 Why this CTA Works
The pleasant and innovative use of language encourages traffic to take the favored action. It additionally mirrors Aliche's personality, which is a pleasant contact and allows customization of the interaction.
Glossier

Beauty logo Glossier has its advertising photo down, showcasing practical pics of girls with several pores and skin types. Who can neglect their boy forehead campaign? Their internet site is smooth with masses of white areas that make the pix of the fashions and make-up pop.

Their CTA is an overlay that looks while you begin scrolling down their site. While many could quickly click on out of the pop-up, the language Glossier chooses makes you need to paste around. "Let's take this in your inbox" is a smart way to invite parents to join your newsletter. If you are down to sign up for in reality click on "I'm in" and you're done.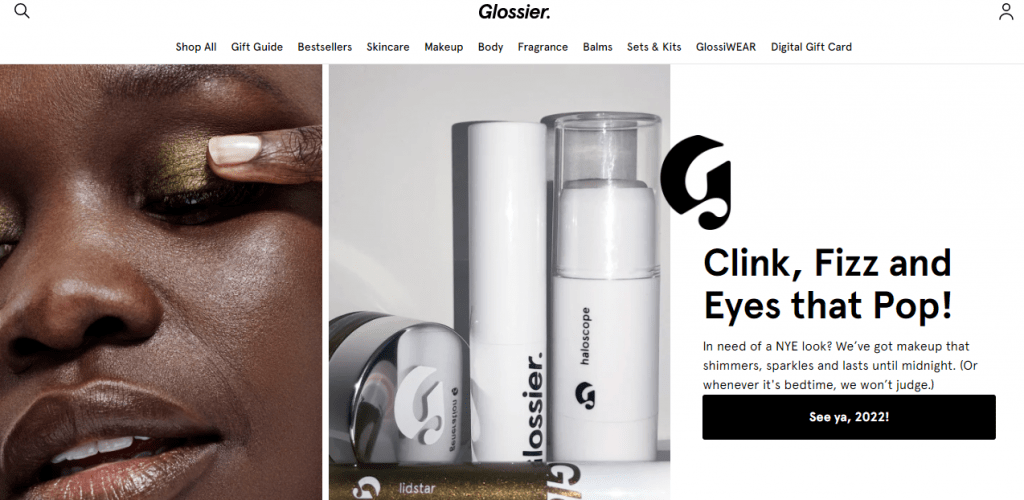 Why this CTA Works
Like The Budgetnista, Glossier makes use of smart phraseology that makes the logo extra relatable and entices human beings to take action. The photo of a version with high-quality Glossier makeup and the illustrations blanketed additional resources in making this CTA appealing.
310 Creative

Growth business enterprise and HubSpot companion 310 Creative ambitions to assist B2B organizations scale and refine the buyer's adventure to boom sales. Knowing that traffic to the web page might not pretty recognize what particular offerings they need, 310 Creative uses a CTA that eliminates confusion.

The slide-in CTA solicits traffic to ee-e book a loose evaluation to get a few readabilities on wherein their commercial enterprise can be falling quickly and find out why those results are happening.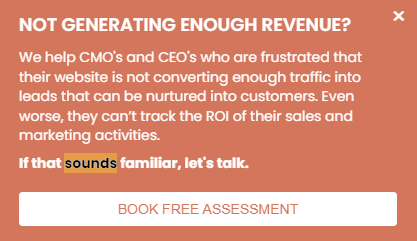 Why this CTA Works
Not most effective does it put off boundaries by explicitly declaring the provider is loose, this CTA additionally demonstrates empathy for the visitor. Describing a problem observed through "If this sounds familiar, let's talk" demonstrates that 310 Creative is here to assist and be aware of the user's frustration.
Heyday

Heyday is a bit of a revolt against the facial industry. Its minimalist, no-frills technique has made it a face amongst individuals who simply need to look like an aesthetician without the fuss and upselling.

That minimalist, however pleasant technique suggests their CTA too. Making splendid use of a few fashions with sparkling skin, this CTA entices visitors to join their publication with a discount. The "sign on and save" button is persuasive, in conjunction with the humorous "No thanks, I pick full-fee skincare" link to choose from.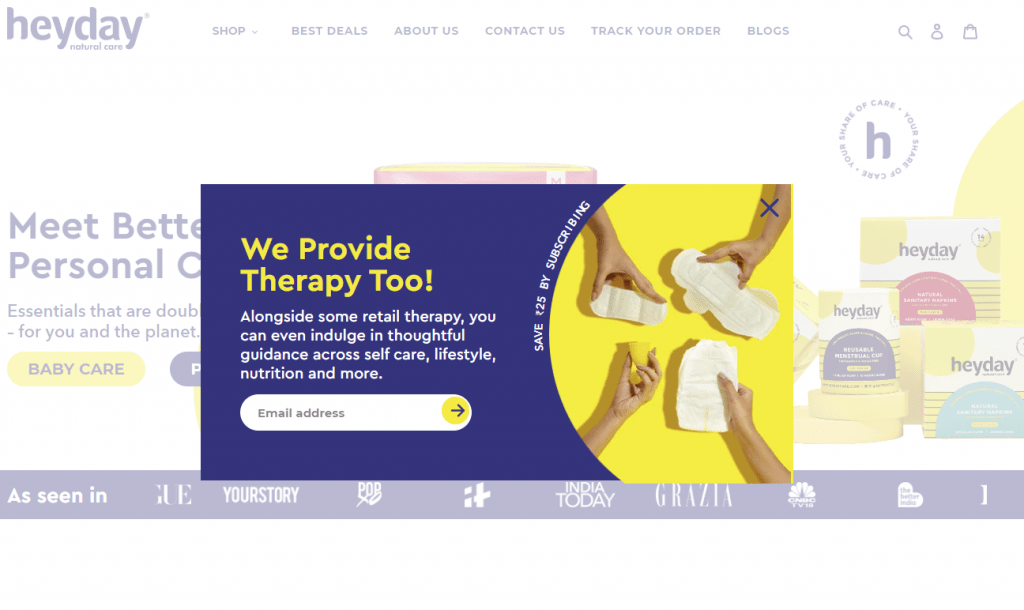 Why this CTA Works
Heyday hired stunning aesthetics, a discount, and humor to inspire traffic to take the preferred action.
VRBO

If you adore surfing stunning holiday houses in your spare time, VRBO is a splendid region to do it. The emblem makes splendid use of aspirational aesthetics and appropriate locales.

The darkish blue CTA pops towards VRBO's white background, drawing the reader in. Then the "find out your escape" button provides a hint of the journey for individuals interested in renting a holiday home.
Why this CTA Works
VRBO makes splendid use of color and phrasing. It's now no longer a holiday, but instead a journey wherein they can function as you're dependent on a guide.
Hulu

Streaming large Hulu went for a dramatic technique with this CTA. The dimmed heritage suggests all its tv and film offerings, at the same time as the inexperienced and white textual content of the CTA attracts your interest in promoting.

It's a sign-up and upsells in one, informing customers that they could get a reduced add-on with Disney+ and ESPN+.
Why this CTA Works
This CTA entices traffic with the influence they're getting to cope with the bundle. Instead of simply having a sign-on button, it's "get the Disney bundle." It places the emphasis on imparting fees to get traffic to take movement.
Wool and the Gang

This CTA from Wool and the Gang will make your experience all fuzzy on the inside. The university heritage of clients wearing their Wool and the Gang clothes plus a lovely doggy truly attracts the reader and suits the logo's audience.

The CTA button states "proportion your knits #woolandthegang" which inspires clients to proportion what they've made to the use of Wool and the Gang merchandise, operating as each logo promoting and client engagement.
Why this CTA Works
This CTA now no longer best grabs the visitor's interest, it creates a feeling of a network and entices traffic to join. This precise CTA additionally doubles as logo promoting as extra clients proportion their kits throughout social media.
Tweak It Studio

Home décor and layout organization Tweak It Studio showcases the significance of getting fun, however clean CTAs.

They get the visitor's interest with "Just Dropped" in large formidable letters to tell readers about new merchandise on offer, then integrate it with a CTA button that states precisely what the object is — in this case, "personalized timber names." It's a good deal extra powerful than simply having a button that truly states "purchase now."
Why this CTA Works
This CTA makes use of urgency with "simply dropped" to get traffic to test out new objects in the shop and additionally communicates actually withinside the button in which the visitor is headed subsequent after clicking.
Want to grow your outreach? Try SendBuzz today!
Conclusion
An effective and important technique for turning visitors into leads and customers is using the right CTA. Like with sales reporting you can guide the performance of your sales processes. Similarly, CTA's guides customer further into sales funnel. It improves the user experience by directing visitors to carry out particular tasks and follow a predetermined path through your sales funnel.
If you are trying to generate more leads or book more meetings, you can simply utilize the power of good CTAs and website UX. If you are planning to grow your cold outreach after placing an interesting and converting CTA on your website, you can utilize the power of cold outreach tools and grow your revenue.