Looking for ways to get a better response rate on your emails? Here are some tips for increase response rates with sales email subject lines. If you are in sales, you would have noticed that follow ups are the best friends when it comes to closing deals that matter. And, you are not alone if your emails go unanswered from the prospects. The idea of sending follow-up emails makes people a bit uncomfortable. But, don't worry, our team has brought some interesting tips and samples to write good email subject lines that would double your response rates.
Pro tip: Do not forget to send multiple email follow ups to your prospects while keeping the language professional. Generally, three to five professional emails follow ups are required before someone would show interest in the products and services you are offering.
Tips to Write Follow-up Subject Lines That Will Boost Responses
When crafting a follow-up email subject line, you must grab your recipient's attention without being too aggressive. Your email's chances of being opened and read might rise by creating an engaging subject line.
Before sending your subsequent follow-up messages, bear in mind some of the top customer follow-up subject line best practices listed below:
Generate more qualified leads with cold outreach!
Offer Value
Make sure you are not just sending a follow-up email to prospect for the sake of doing it. Make a valuable offer to your clients in the follow-up email, such as a free audit, case study, or e-book.
Sending your potential customers something they want or need can be precisely what they need to respond to your email.
Keep It Brief
Long emails are boring to read. Your follow-ups should be brief. It should just take one or two words to capture a prospect's interest and compel them to respond.
On their smartphones, 56% of your receivers will open your emails. Therefore, it is likely that a long subject line for a sales follow-up email will be truncated.
Utilize a Call to Action
After a prospect reads your email, you must make clear what you want them to do. Do you want a meeting, a demo, or something else scheduled? Let your prospects know what they should do in order to advance to the next phase by using right call-to-action.
Think of the Friction Points
Consider yourself to be one of your possibilities. Would you be tempted to open the networking follow-up email if you read the subject line?
If not, why not, and what would prevent you from doing so? Once you've located the problem, you may begin to solve it effectively.
Is the price of the goods or service too high? Offer reductions.
Focus on the incorrect area of pain? Try modifying it.
Security worries Prove your reliability to them.
By developing a thorough buyer persona, you may gain a thorough insight into your target market and pinpoint these friction areas.
Utilize Your True Name
People, not departments, are usually more responsive to your recipients. Use your real name in the sender field or the subject line of any follow-up emails if possible.
On every email you send in the follow-up, use that same name. When your potential customers see that, they will believe they are speaking with a real person and not a robot or spam.
Personalize
Personalization is the secret to creating a great subject line for follow-up emails (and cold emails in general). In comparison to non-personalized emails, personalized emails have greater open rates, higher click-through rates, and more conversions.
Enhance the snippet's readability. Give yourself some time to create this quick paragraph, which appears next to the recipient's inbox's subject line and gives them a sneak preview of the email's body.
As an alternative, you could create an introduction that includes the name of the recipient, ask a challenging question, or just compose the first few sentences of the email itself.
You can customize the subject line of your follow-up email in a variety of ways. Here are a few suggestions:
Find shared interests – People are more likely to believe those who are like them. By identifying shared interests in your follow-up email with the prospect, you may take advantage of this to your advantage. Before creating the networking follow-up email subject line, do some background research on the prospect by looking at their LinkedIn page and other social media accounts to see if they have any common interests.
Utilize mutual connections – If contacting a prospect directly proved unsuccessful, consider using a mutual connection. Request an email introduction from a common acquaintance to your prospect, or just make the connection in your follow-up email.
Avoid Subject Lines With "Never-Ending"
A subject line that doesn't attempt to explain the complete story is less effective than one that is succinct and informative.
A follow-up email's subject line should be a teaser, not a synopsis.
Additionally, a lot of business owners check their email on their smartphones, and the average inbox only displays about thirty characters.
Make sure to keep it brief and use no more than seven or eight words to convey your message.
Steer Clear of Subject Lines That Don't Entice You to Read the Email
Writing a follow-up email subject line that piques the recipient's interest in your email message is crucial.
Keep the subject line of your email intriguing. Avoid using a subject line that gives away too much about the content of your email.
Try to engage the recipient with the email you have sent rather than getting your mail marked as a spam or promotion due to random sales pitch.
Also remember that if the subject line of your follow-up email doesn't make a clear point, it may end up in the spam or garbage folder.
Steer Clear of Deceptive Topic Lines.
You are mistaken if you think that getting your cold email read, even if it means using a deceptive subject line, is the most crucial thing.
Reading an email that has nothing to do with the subject line is the worst.
Make sure it is related to the information in your email. Do not use a subject line that is misleading or unrelated to the substance of your email.
A misleading subject line could not only annoy your recipient but also cause them to respond negatively or not at all.
You want to avoid receiving a negative response to your email since the recipient may find it annoying not to receive the content that was mentioned in the subject line.
Keep Your Voice Casual and Conversational
Use a pleasant and talkative tone that conveys your real interest in the subject matter rather than writing a subject line that comes out as aggressive or overly sales-driven.
Why Your Follow-Up Email Subject Lines Matter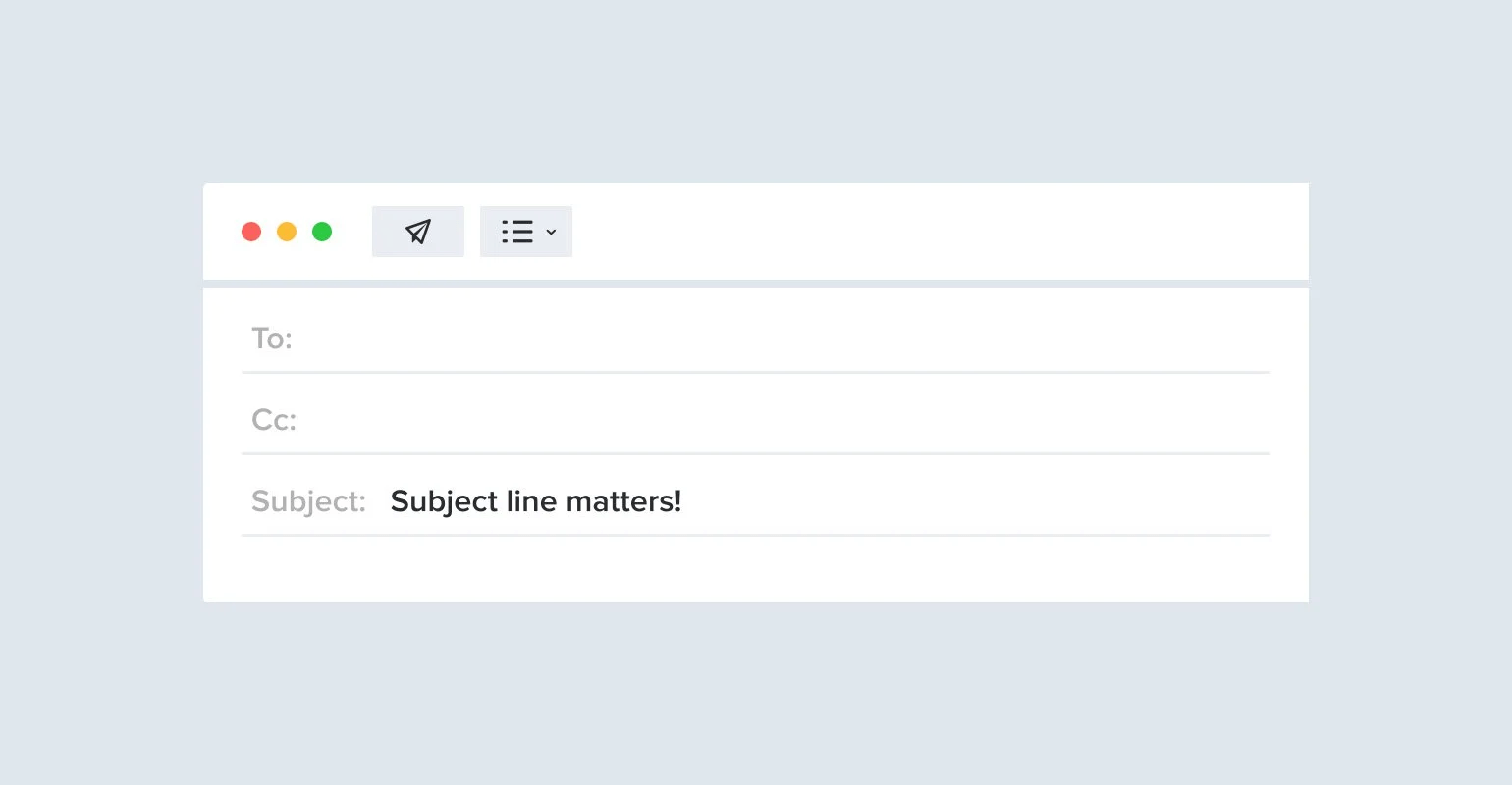 Looking for ways to get a better response rate on your emails? Here are some tips for increase response rates with sales email subject lines.
Email continues to be one of the finest ways to reach a big audience, with the global email user base expected to reach 4.6 billion in 2025.
The average employee receives 120 emails each day, therefore it may be challenging for your message to stand out in the recipient's inbox.
How Can You Help?
Sending email follow-ups is a good way to pique your recipient's interest and keep them on your mind.
The theory is that your chances of getting a response increase as you send out more follow-up emails. The response rate really increases from 18% for your first email to 27% for your fifth follow-up, according to research.
The drawback is that all of your follow-up emails likewise get in a cluttered inbox.
Your follow-ups won't be noticed if they don't contain anything distinctive.
The most excellent strategy to ensure that your follow-up email is read is to utilize a captivating subject line.
Why?
One of the first things someone will notice as they scan their inbox is the subject line. It can influence whether or not they open your message; over 47% of recipients open emails just based on the subject line.
You'll be one step closer to engaging with the recipient if you can capture their attention with a strong follow-up email subject line.
When to Send Follow-Up Emails to Prospects
Within three days, a follow-up email should be issued. However, you should lengthen the waiting period between each follow-up email if you intend to send several.
The CRM proposes the following follow-up schedule:
Follow up – 1
Follow up – 2
Follow up – 3
Follow up – 4 
Follow up – 5 
Sending the sixth follow-up email after sending the fifth should be done one month later.
The waiting period gets longer with each follow-up, as you can see. This is done to give potential customers adequate time to decide or alter their minds.
Every day, dozens of similar emails are sent to your receivers. In order for them to give your email priority, be sure you have established prior contact before sending it.
A schedule that works for you and your target audience should be found through experimentation, notwithstanding the success of the one provided above.
How Long Should You Wait Before Following Up?
The vast majority of emails are read the day they are sent, and if a response is provided, it is likely to be delivered on the same day as well. Therefore, it is generally safe to assume that if you submit your initial email and receive no response the same day, you won't receive a response at all.
How secure? On the day they get an email, 90% of recipients open it and respond if they are going to respond at all.
Generally speaking, you should wait two to three days before sending your first follow-up email. Depending on how many follow-up emails you want to send after your initial message, you should then increase the waiting period by a few days for each email after that.
The timing of further follow-ups can and should be experimented with, but up until something contradicts it, the schedule is reliable enough. Without bothering your targets with daily blasts, you want to follow up.
Continue doing that until you realize that neither you nor your audience is benefiting from it.
50 Follow-up Email Subject Line Examples to Get Your Emails Noticed
Ask a Question Right Away

Asking a question will create curiosity in the reader's mind which will let them open your email.  This framework works well since it can seldom go wrong and it arouses curiosity. Asking a "short query" won't come across as very aggressive or create a negative first impression with your prospect.

1. Question

2. Quick inquiry regarding [Pain Point]:

3. "Prospect. First Name, quick question," "Prospect. First Name, another question"

4. What do you suspect?

5. Do you have 15 minutes to spare?

6. "Can we discuss this on day + 2?"

7. "Want to get rid of [pain point]?"

8. "Can we talk about 'company name'?"

9. "[Your Company] + company.name"

10. "Coffee, perhaps?"

These all have open-ended subject lines that will entice your prospect to open them. You may test these with lowercase as well.
Give Your Prospect a Freebie

People enjoy hearing positive comments about them and their work from others. Because of this, complimenting your prospect in your subject line can increase your open rate.

The important thing is that your compliments should be sincere when you give them to your prospect.

It will be clear if you're making things up. For instance, it will be obvious that you don't care about a prospect's podcast if you tell them, "I adore your podcast!" before saying anything about it in your email. That is worse than saying nothing at all.

Make sure to follow up on the praise you made in the subject line in your email. For instance, if you told them you liked their podcast, be sure to include something particular about it in the subject line or the P.S. section of your email.

Here are six instances of compliments you might give your prospect:

11. "I adore [the feature] of [the prospect's product]"

12. "Excited to try [the freshly launched product of the prospect]"

13. "It was great to see/meet/listen/talk to you at [event/location],"

14. "Went to [conference/event] and saw your speech."

15. "Read your [subject] article,"

16. Enjoyed your podcast with [invited guest]

The best method to convince your prospect that you are really interested in having a dialogue and haven't simply added them to a generic email campaign with hundreds of other individuals is to demonstrate that you have looked into their business or the material they have created.
Be Clear and Make Value Promises

A clear explanation of the purpose of your email will convince potential customers that you are not just trying to waste their time.

Your prospect will almost certainly open your email if you specifically mention the product or problem you're tackling.

One thing to keep in mind is that your subject line ought to be as clear as possible in this case. Tell them specifically what you're reaching out to help with, such as Facebook Ads, link building, or writing blog posts for them, if you want to assist them with marketing, for instance.

Repurpose House, for instance, states clearly what service they provide in the following topic line:

Following are five illustrations of follow-up subject lines: 

17. "Suggestions on lowering your cost-per-lead"

18. "Prospect. First Name, I've got some Facebook Ad ideas for you."

19. "Effective strategy to improve the company name's SEO results"

20. "Want to talk about the YouTube strategy for the company name?"

21. "3 suggestions for the LinkedIn outreach strategy of the company name"

These types of subject lines demonstrate your aim in contacting the recipient. There is a good probability that your email will start a conversation if it arrives in the inbox of your prospect at the exact moment they are considering how to address that issue in their company.
Keep It Simple and Non-Descriptive in Your Subject Line

We focused on particular subject lines in the previous set of samples. You might, however, take the other approach and use a vague subject line for your follow-up email.

The goal is to merely provide your prospect with enough information to pique their interest enough to open your email.

For instance, if you merely include your prospect's name or the name of their business in the subject line, they will know that you have at the very least done some preliminary research on the person you are contacting. That usually serves as a sufficient incentive for someone to open an email.

The nicest thing about these plain and uncomplicated subject lines is that they make you avoid using sales language. Less information decreases the chance to go wrong.

Seven examples that you can use are as follows:

22. Subject line: "[Empty]"

23. "Prospect. First Name,"

24.  "Company. Name,"

25. "Question About "Company. Name,"

26. "Quick Question,"

27. "Got 15 Minutes?"

28. "Question for you"

Although these topic lines are ambiguous, they are not deceptive either. The worst-case scenario is when a potential customer opens your email because they believe you are being evasive.

Here are five straightforward ways to make an introduction in the subject line:

29. "Hello again from [your name/company]"

30. "[Your company] -> [company.name]"

31. "[Your name] -> [prospect.first name]"

32. "Prospect.first name and [Your company]: Potential Collaboration?"

33. "Company name"
Mention a Connection, Interest, or Event that You Share

A great approach to follow up is after you've met someone at a networking event or when you share a trait, like relocating to the same city.

Use this in your opening email whenever possible rather than waiting for a follow-up; although, there's always a chance you discovered your common ground after you'd already made contact.

A subject line that demonstrates to your prospect how much you have in common will always be more intriguing than any other.

Because your recipient will know you haven't simply obtained their contact information from a random web contact database, this type of subject line can warm up your cold emails and can significantly increase response rates.

Five instances of this in action are provided below:

34. "I met you at the [conference, workshop, or event]"

35. Technology founder to technology founder

36. "Coffee this week in Berlin?"

37. "[Mutual Friend] referred me to you"

38. "[Mutual Friend] instructed me to get in touch"

These are effective because your target may relate to and identify with the subject lines. You would open an email almost 100% of the time if it mentioned a conference you went to or the location you reside in.
Add FOMO and urgency

Try boosting urgency if your email sequence isn't receiving any opens or responses. If your prospect has been putting off answering you owing to being busy with other work, urgency can be a fantastic method to catch their attention.

Here are five examples of follow-up subject lines with a sense of urgency:

39. "This is my final email to you."

40. You don't want to increase sales this quarter, right?

41. "Final check-in"

42. "You don't want to miss this"

43. "Is this the right email for prospect. first name?

Not everyone will find resonance with these subject lines. But if you're searching for a fresh way to interact with your prospect, they can be effective at the end of a campaign.
Use wit, creativity, and humor

In the inboxes of your prospects, you are in a competitive position. Since they make decisions, other cold emailers and SDRs are also contacting them at the same time as you are.

Add some comedy to your follow-up as a method to stand out.

Before employing comedy, be sure it fits the circumstance and business you're in. Otherwise, you run the danger of coming across as unprofessional.

However, if your sector and corporate culture are open to using comedy in a professional setting, it might be worth a shot.

For instance, in the subject line of this campaign, AppSumo makes a joke about dating apps. Their email stands out in the inbox thanks to its inventiveness.

Warning: Because the sense of humor differs from that of your prospects, there is a chance that your emails will be labeled as spam if they are received by recipients who do not find your comedy amusing.

Having said that, here are five humorous subject lines you might test out to lighten up the conversation:

44. "the kindest uninvited note you'll receive today,"

45. The chutzpah of this email,

46. "Opening gambit attempt [X]"

47. "Pull right?"

48. Avoid opening this email!

49. I failed to include "critical update" – You can use this subject line to advise a prospect of some fresh details while also bringing up your initial email.

50. What can I say to make you reconsider?

This open-ended query shows that you are receptive to recommendations and eager to take into account the recipient's point of view.

Although comedy and creativity-based follow-up subject lines won't always be successful, they may be a fun approach to change the tone of your connection and demonstrate to your prospect that you're a real person.

You must maintain your tone in the body of your email if your subject line is humorous. If you use humor to try to get your prospects' attention before returning to a serious tone for the remainder of your cold email, it will appear awkward.
SendBuzz helps you automate your follow up process!
The email marketing and follow-up automation application SendBuzz operates inside of Gmail.
Employees at industry leaders like Google and Uber as well as social media juggernauts like LinkedIn and Twitter are fans of it. If you're a small business owner, solopreneur, marketer, hiring manager, recruiter, or casual email sender, the product is also ideal for you.
Send automated emails as follow-ups: Sending automatic emails as follow-ups until a recipient receives your email, responds to it, or clicks on a link in the message is incredibly simple with SendBuzz. For optimum engagement, you can also easily customize the email content, change the intervals between them, and determine the frequency of these automatic communications.
Send automatically personalized emails at scale: SendBuzz enables you to create personalized emails that are catered to the interests of your receivers by automatically adding customization tags to the subject line and content of the email.
Use thorough analytics reports to analyze follow-up success — By examining the open rate, reply rate, and other email metrics, you can evaluate the success of your follow-ups directly inside your Gmail inbox.
Send behavior-based email campaigns: Depending on how a recipient responded to your previous cold emails or marketing emails, you can send them a tailored email campaign.
Send a drip campaign: By including your recipients on your mailing list and sending them frequent, pertinent emails as part of your drip campaign, you can interact with your audience.
Mobile Device Access: Through the SendBuzz add-on for the Gmail Android app, you can access all email marketing and follow-up features on your Android mobile device.
Want to grow your outreach? Try SendBuzz today!
Final Thoughts
Most of the time, the subject lines of your follow-up emails impact whether a receiver opens them or not.
Choose from my follow-up email subject line examples to increase the likelihood that your emails will be read, or use the advice I provided to write a strong subject line on your own.
Additionally, you can track the effectiveness of your subject lines, change the frequency of your follow-up emails, and take the appropriate actions to increase recipient engagement by using an email marketing platform like SendBuzz.