Email subject lines and preheader text are like coffee and cake in the sales and marketing world.
First the focus was on the Subject line (coffee) but to make things interesting preheader (cake) is paired with it. Their combination became stronger with the passing of time, and they ended up complementing each other.
Therefore, to boost your email marketing, optimum utilization of the subject line and preheader is a must.
Let's find out how they impact your average email open rate and your overall email campaign and improve click through rate for your email outreach.
In this blog you will know about many interesting topics like :
What is a preheader?
How can it impact your email campaign?
How can you optimize it to get the best results?
To get a hold over any topic a thorough understanding of any subject matter is a must.
Now let's understand exactly what an email preheader is.
What is an email preheader?
An email preheader is the text that is visible in the inbox of the recipient along with the subject line. The text is like the mini-description of the message that is present in the email. The visibility of the text may depend on the device and your email clients.
To make it more clear, below is a visual example of the email preheader.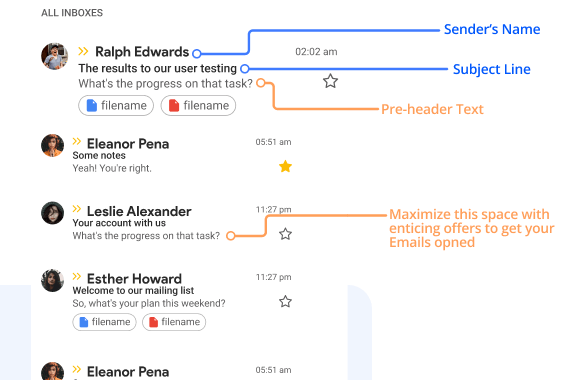 Now that you know what an email preheader is, its placement and where it is visible let's explore the benefits associated with adding an email preheader with the subject line.
Send Automated Emails with Pre-header in SendBuzz
What are the benefits of adding preheader text?
When your drafted email is fighting for the attention of the other incoming email in your prospect inbox, it's best to give you every opportunity presented to you to win that battle. Benefits of adding a preheader to your email.
Effects on your email open rate


A prospect makes a decision whether to read an email or not based on the subject line of the email.

And when a preheader is added to it, this presents an option for the prospect to know what is present in the email message.

He can make an informed decision and, at the same time, presents you with the chance to entice the prospect.

Have control over what your prospect read


If you don't write a preheader for your email, then the email client will show a random text from your message as the text present in your email.

Example: If the email client picks the text phrases like "You can unsubscribe" or some negative text from the message this can divert the prospect from viewing the image.

Give a brief description of the email message


The definition of the preheader is that it gives the gist of the text that is present in the message that is present in the email, and this is a key factor in the decision factor of the prospect.
What is the character limit of a perheader?
The character limit of the preheader depends upon the email client; generally, the email preheader's character limit ranges from around 40 to 130 characters.
One of the factors influencing the email preheader character is the device in which it is viewed, such as desktop or mobile email.
The image will give you an idea about the character limit according to the device.
| Mobile | Avg # Characters in Preview Text Display |
| --- | --- |
| iOS Outlook | 74 |
| Android Native | 43 |
| Android Gmail | 24 |
| iOS Native | 82 |
| iOS Gmail | 30 |
| Desktop |   |
| Apple Mail | 33 |
| Outlook '13 | 38 |
| Outlook for Mac '15 | 53 |
| Outlook '16 | 50 |
| Webmail |   |
| AOL Mail | 81 |
| Gmail | 119 |
| Outlook.com | 49 |
| Office 365 | 40 |
| Mail.ru | 64 |
Make sure to maintain the most important information at the beginning of a lengthy preheader paragraph so that readers may still understand it even if it is chopped off.
Email clients will display some text from your email's preheader if it is too brief. Therefore, use all of the allowed characters to prevent this.
How to add preheader text to your email ?
After learning more about email preheaders, there are two ways to add them to your email if you wish to utilize them in your campaign.
Preheader text can be added to emails both with and without coding.
Applying code
You can use code to make the preheader text the first text in the email, which recipients will pull to display in the preheader area of the inbox.
You must add the following code to make this preheader piece invisible to most users in the actual email:
<td>
"This is a preheader text."
</td>
The code makes it such that it will be nearly impossible for anyone to read your writing because it will render it incomprehensible with a font size of 1, a background color of white, and no opacity.
You must change the "This is preheader text" placeholder text to what you want it to say and then add it to your code.
How can you add a preheader without using code?
In the above example, you can see that when creating your email campaign, you can add a preheader without using a code.
With SendBuzz, you just have to select the template, then customize it. When you choose emails, you will be presented with the template, as you can see above, where you can insert the preheader. It is easy to add a preheader with SendBuzz.
Best Practices for Email Preheader Text
In order to attract readers' attention and persuade them to open your emails, a well-written email preheader complements the subject line. As a result, it is essential for raising your open rates and improve email click through rate.
Nonetheless, creating a strong preheader can be difficult. To help you write a preheader that will work well, here are some recommended practices.
Write winning subject lines with our free e-book
Proven Subject line framework to get higher opens
Describe your subject line in detail

Giving attention-grabbing information in the subject line isn't always achievable. Preheader text can fill in that space.

Also, by integrating preheader material with the subject line, you generate something fresh that can catch the attention of your reader. As a result, it encourages them to open your email.

Ensure that the preheader content and the subject line are consistent

Another strategy used by Printuful to make subject lines and preheader content effective is to develop a narrative or a flow.

You can think of fun and inventive ways to link the two of them together to form a complete phrase because they are both present together.

Preheader text should hint to a reward

Using preheaders in opposition to the subject line is one of the best uses of them. While the subscriber is intrigued by both of them, the preheader only serves to pique interest.

Unlike the first tactic, which offers important details, this is the opposite. You are omitting the crucial information in this case, but you are also increasing their appeal.

Create urgency to make people feel pressed for time

People make decisions more often than not based on mental models and psychological biases. The fear of missing out or creating urgency is one such mental model, since people make decisions swiftly and seize possibilities.

Making the emails seem exclusive and time-bound will help you evoke this sensation.

Make the preview text your own

Personalization of emails definitely increases engagement. People are more likely to connect with information when it sounds personalized and is delivered in their name.

Preheader text can be personalized to sound more personable and encourage recipients to open the email.

Emojis might help you stand out in your inbox

Emojis can be used in the preview text to make it more noticeable in the recipient's inbox. Consider how a vibrant emoji will catch someone's eye in their inbox when they are scrolling through the non-text preview content.

Emojis have the advantage of conveying more meaning with fewer words, as seen in the example below.

Put a call to action in

To encourage more recipients to open your email, utilize call-to-actions in the preheader text in addition to the subject line and body.

You can include a direct call to action, such as "You should read this email to find out what..," or a more subtle one, such as "shop using (this) to get 10%."

To make the best possible preheader call-to-action, adhere to the following guidelines:

The call to action should be brief and direct.

Make it seem simple to complete.

Explain to them why they should respond to the call to action.

In order to prevent the call to action from being cut off, make sure to include it within the first few words of the preheader content.

Display a sense of humor

You can try producing a hilarious preview text to pique the recipient's interest and persuade them to open the email, depending on your target and sector.

Humor in marketing is effective because it piques recipients' interests and has a tendency to hook them (but only if that's what your target market prefers).

Pitfalls to watch out for while crafting preheader text

Don't say anything more that isn't already in the subject line.

Emojis should not be overused in emails since this may make them appear spammy and unprofessional.

If you're not going to keep your promise in your email, don't overstate it in the preview text.

Preheaders shouldn't be too brief because email clients may choose to display arbitrary email fragments.

Don't use too many words or characters because it can be cut off depending on the email client or device.
Email Preheader examples
You can copy and paste the following effective samples of advertising preheader text:
| Subject Line | Preheader |
| --- | --- |
| "Don't miss out on our flash sale!" | "Limited time only! Save big on your favorite products." |
| "Important notice regarding your account security" | "Your account security is our top priority. Please read this important message." |
| "Get ready for summer with our new collection" | "Discover our latest summer collection and get ready for the season." |
| "Last chance to register for our webinar" | " For valuable insights register now" |
| "Thank you for your purchase" | "Your order has been received. Here's what you can expect next." |
| "New job opportunities available" | "Looking for a new career? Check out our latest job openings and apply now." |
| "Hurry, limited stock available" | "Get it before it's gone! Limited stock available on our most popular items." |
| "Stay in the loop with our newsletter" | "Sign up for our newsletter and be the first to know about our latest news, promotions, and more." |
| "Join our loyalty program and earn rewards" | "Become a member of our loyalty program and start earning rewards for your purchases." |
Want to grow your outreach? Try SendBuzz today!
Conclusion
You won't stop once you start seeing the benefits of creating strong preheader texts that make you more receptive. But how can you tell which texts will be effective and which won't?
Utilizing A/B testing. A/B testing can be useful whenever you see poor open rates or are perplexed by a variety of preheader messages. You may test which performs better by creating two variants of emails with different preview text. By doing so, you can receive results that are supported by evidence and do away with speculation.