Consumers today want highly customized experiences that cater to their needs in today's data-driven world. As a result, marketers preferred personalized email marketing to satisfy prospects' needs in email marketing. 
Great salespeople are relationship builders who provide value and help their customers win.
                                                                                                    – Jeffrey Gitomer
Due to the rise of personalized email marketing practices, customized emails are a must-have approach even for business-to-business (B2B) buyers.
If you are new to B2B personalized email marketing, then this blog will help you understand the concept of email personalization so that you can reach out to your prospects with a sales cadence.
B2B email personalization is the act of tailoring your advertising, offers, and communication efforts to fit the needs of each B2B prospect you target. It involves reaching out to the target audiences and better understanding how to deliver faster, more relevant, and expected experiences to business customers.
Now, you might be wondering why personalization is so important in email marketing, and if yes, then what is the significance of personalized email marketing?
Why is personalization in email marketing for B2B necessary?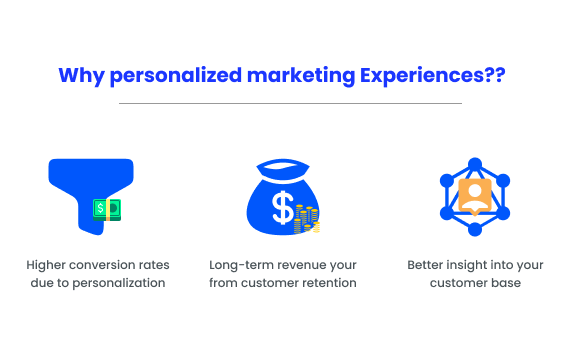 Even though the end customers in B2B are other business firms, the decision-makers in those businesses are still human beings like you and me. Even in B2B sales, a decision maker who, like any other individual, responds favorably and unfavorably to specific cues is there despite firms selling a B2B product or service to a company.
Generally, business vendors don't expect a high degree of personalization, yet personalization in email marketing reaps great benefits for brands. Brands can optimize their marketing strategy by:
Targeting high-value clients.

Connecting with clients on appropriate channels

Engaging with messages relevant to them

Interacting in real-time
More than 70% of marketers claim that personalized emails enhance customer and prospect engagement, saying that email personalization is a powerful tool for B2B sales professionals. Additionally, personalized emails can generate up to four times more click-throughs than generic emails.
This gives you a reason to improve and make your engagement more personalized. Let's look at a few actual B2B personalization examples to demonstrate how companies can improve customer experiences with this.
How are B2B sellers offering personalized email marketing at scale?
1) Website content
Your website's content ultimately influences how long visitors remain, whether they continue exploring and take action before departing, and how long they stay. Making sure that the content on your website is tailored specifically to B2B visitors will ensure that their problems are solved.
Ways to do this include:
Draught a personalized call-to-action that appeals to the prospect.

Know the category of people you are targeting.

Update your website content to suit your prospects.

Choose the right automation app that is the right fit for your business.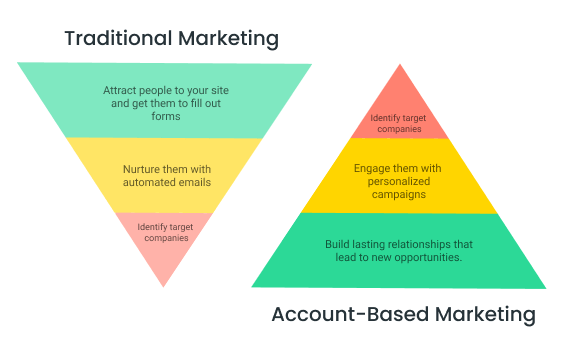 2) Account-based marketing
ABM is a type of corporate marketing approach that focuses resources on a specific group of target customers within a market.
In order to engage each account, it uses customized campaigns that base its marketing message on the particular characteristics and requirements of each account.
ABM also looks at marketing more broadly than just lead creation. One of the keys to generating the maximum value from your largest accounts is email marketing to the current client accounts to drive upselling and cross-selling.
Account-based marketing's advantages
For B2B organizations that target larger accounts, account-based marketing is becoming more common. Account-based marketing has significant advantages over other marketing strategies for businesses looking to sell to large accounts with lengthy sales cycles and sizable deal sizes. 
Individualized marketing strategy
Instead of using a generic strategy, marketers develop personalized messaging for target accounts by using the information they already have about their target audience to customize the campaign's creative materials to suit their unique wants and characteristics. 
Aligning marketing and sales
In order to align and advance individual accounts through the pipeline, both before and after lead conversion, marketing teams, and sales organizations must collaborate. This involves identifying target accounts, creating campaigns that are specifically tailored for them, and collaborating to find target accounts.
Reduced sales cycle length
Numerous parties are involved in significant buying decisions. As a result of starting at a lower level in the organization and moving slowly up to the main decision-maker, this usually slows down the sales process. The cycle is reduced with account-based marketing since all prospects are cultivated at once.
 Account-based marketing has the highest ROI of all B2B marketing strategies because it is precise and measurable. Account-based marketing outperforms all other marketing strategies, according to 84% of marketers who track ROI. 
Fewer resources are squandered.
The accounts that are most likely to close sales receive a restricted amount of time and resources. Resources that would have been thrown away are now freed up.
Personalized advertising and account-based marketing
The ability to specifically adjust an email's creativity and messaging for each of your target accounts makes customization a key component of an ABM approach. Email personalization allows you to alter how users interact with your site once they arrive, much like how offsite marketing campaigns are personalized for each client. 
In order to identify anonymous site visitors, email personalization for ABM uses metrics like click-through-rate, which is often obtained by the data that is collected by the automation tool that is used by the marketing and sales team. 
The messaging, visuals, calls-to-action, of an email marketing can all be customized through account-based personalization.
3) Email marketing
To avoid sending useless information, it's crucial to carefully consider and use corporate customer profiles when drafting personalized emails. Most business recipients receive B2B marketing emails that don't even pertain to their needs, according to statistics.
At this stage, using the recipient's first name is customary, but you can't stop there. You want potential clients to recognize your understanding of them. 
To add personalization to email marketing, think about using these suggestions:
Use phrases like "now," "today," "free," and "new" to speak directly to certain problems.

For clarity, use "you" and "your" to indicate that you are speaking to the receiver specifically.

Send out order or delivery confirmations, appointment reminders, event details, etc. to let them know that you are keeping track of their journey.
Strengthen trust and increase revenue with B2B personalized email marketing.
Despite often being more data-driven than B2C buyers, B2B buyers are still humans. People who favor authenticity, respect, worth, and usefulness of the emails that are sent to them.  Every B2B marketer needs to know how to use B2B personalized email marketing for this reason.
 Automation can help you with the personalization of email marketing. Platform like SendBuzz offer tools like multichannel outreach, customer triggers, email templates with placeholders and more lets your sales team connect with the prospect with the right message at the right time.
Conclusion:
Personalization in email marketing is more impactful in both B2C as well as B2B. With sales engagement platform you personalize your outreach at scale can  Reading the above blog, you have a fair idea about how you can integrate personalization into your email marketing and generate more revenue.