Many marketers and sales reps have this common notion that B2B and B2C are the same, but that's not true. When it comes to B2B and B2C email marketing, the differences may seem minimal, but the role that they play is crucial.  
There are many different types of  B2B email marketing strategies. Which one is the best for your business? This article explains the differences between search engine optimization, list building, and lead nurturing.
We'll therefore go over the email marketing campaign strategy today to enable you to understand the distinction between the two. More particularly, we'll discuss
B2B email marketing definition
Top 5 B2B email marketing strategies
The three excellent B2B email marketing examples that you may use as a guide
You'll understand how to create the ideal B2B emails by the end of this article, which will, of course, result in higher revenue for your company.
Business-to-business(B2B) email marketing is a particular form of email marketing approach where you target businesses rather than individual clients with your email messages.
There are several distinctive contrasts between traditional business-to-customer (B2C) email marketing techniques and various business-to-business (B2B) email marketing strategies.
How well you comprehend these distinctions will determine how successful you are as a B2B email marketer.
The issue is that B2B email marketing is difficult to monitor. Companies frequently slack off when it comes to target segmentation and lump together B2B and B2C email marketing tactics under one broad heading.
The thing that every sales rep and marketer should be vigilant about is that your B2B marketing should not clash with the B2C marketing approach. 
However, marketers will undoubtedly notice significant gains in their email campaigns once they fully grasp the subtle variations needed for B2B email marketing.
Generate more qualified leads with cold outreach!
B2B vs B2C Email Marketing
B2C marketing is considerably different from B2B marketing. B2B and B2C marketing have different audiences, communication methods, strategies, and applications. For instance, the end customer in B2B marketing is another business. Whereas in B2C, the end customer is a regular retail customer.
In B2B marketing,  there is a difference between the person responsible for making purchase decisions and the end users. Therefore, by focusing on the pain points of the person responsible for the purchase decision, sales reps can benefit from it.
Several B2B enterprises are shown here as examples:
B2C marketing focuses on the requirements, passions, and difficulties of consumers buying on their behalf or for themselves, making them the client.
An online store selling office products to freelancers and others working from home
A retailer of apparel and accessories, including t-shirts
A website for selling streaming subscription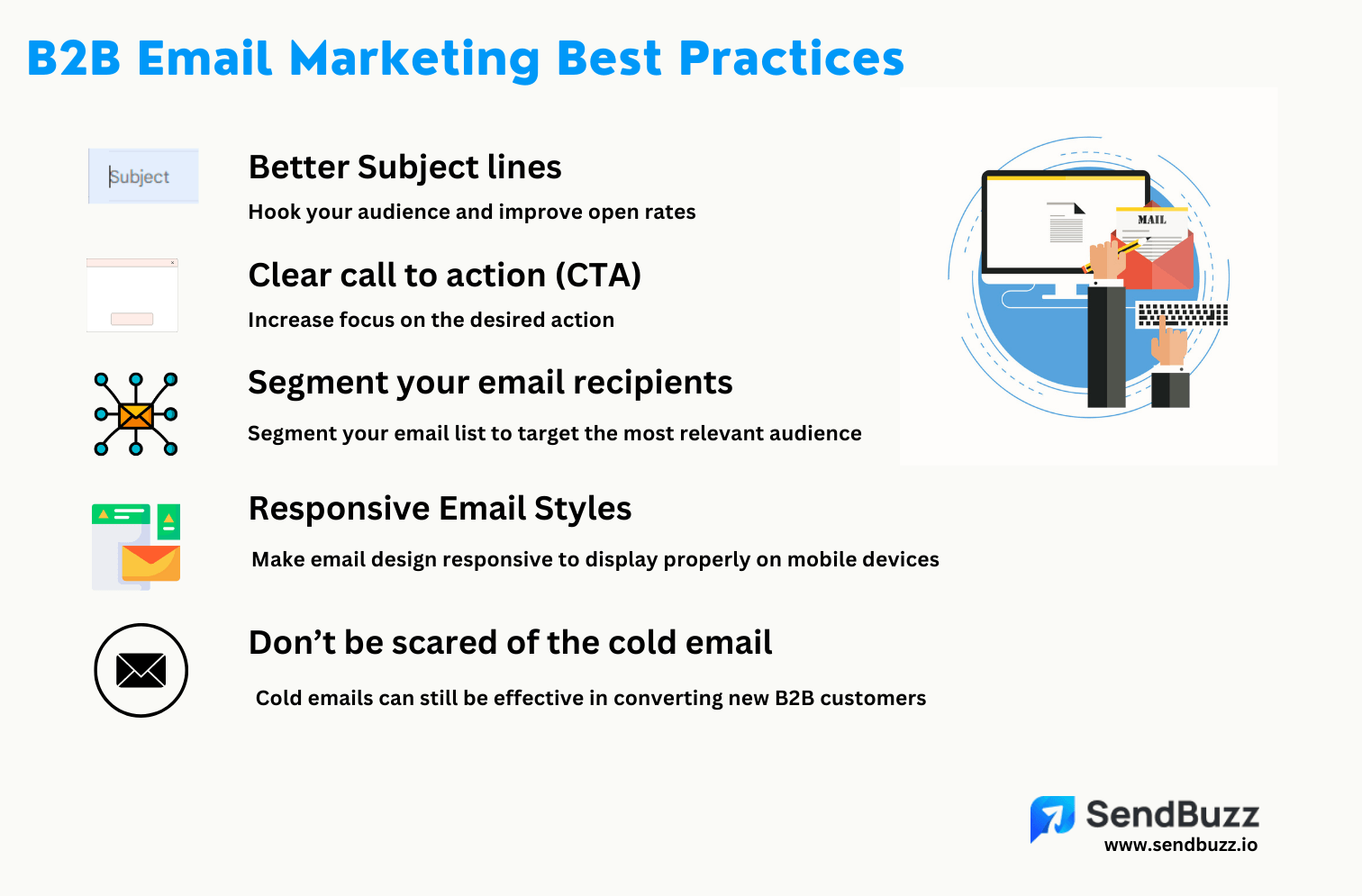 B2B Email Marketing Best Practices
Write attractive subject lines.
No b2b email marketing best practices list can be complete without it. Think of your email subject lines as a Netflix trailer. If you cannot hook your audience with a two-minute clip (or, in this case, many dozen characters), do not expect them to open and watch (or read) the entire thing. The inboxes of the prospect are generally filled with many emails. Therefore, it becomes necessary to make your subject line compelling to improve your open rate.
Stick to at least one call-to-action (CTA) per email.
If you think the number of emails you receive could be a lot, look at the CTAs in those emails. Some are packed with 2, 3, and typically up to 10 completely different CTAs.
Never make this mistake! It may end up confusing your audience. They will be wondering about clicking on which CTA. Eventually, they might end up clicking on nothing.
Your audience will focus on one specific action in each email when a single CTA exists. This is a refreshing break from the regular analytical paralysis and irrational decision-making of today.
Segment your email to achieve the foremost relevant audience.
Not each email you send applies to everybody on your list. Your subscribers could also be at different stages of the buying journey or be seeking distinct solutions. Here, email marketing strategies such as email segmentation comes into play. Not only will this assist you in understanding your audience better, but it will make your emails personal. Shoppers like email quality over quantity anytime.
Make your email style more responsive.
Over 80% of email users access their inboxes on their phones. So emails not loading correctly on mobile devices are often deleted in 3 seconds.
Don't be scared of the cold email.
As uncomfortable as it is, the correct email will convert new customers. For example, here is a cold sales email that won 16 new B2B customers.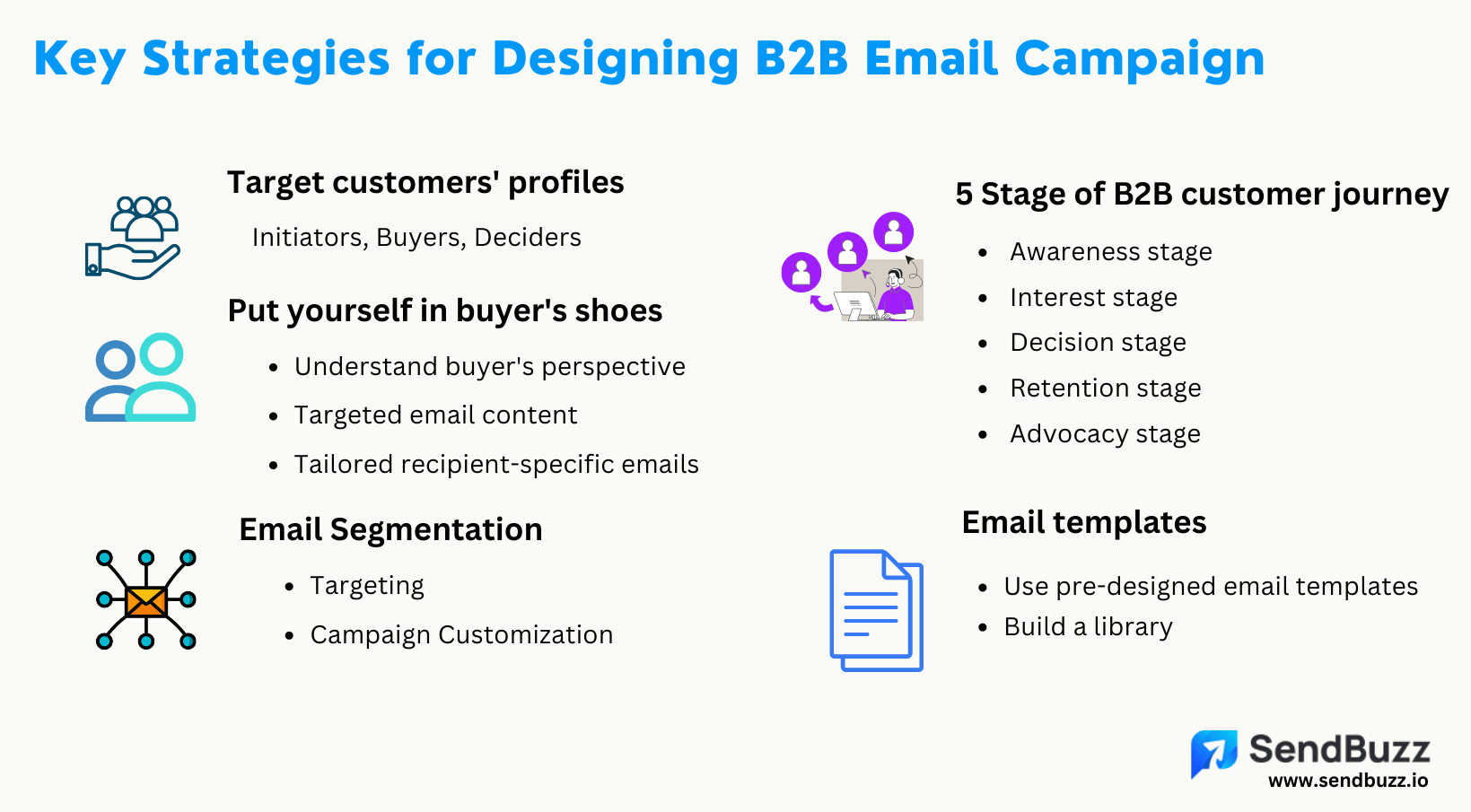 Key strategies for designing a B2B email campaign
You know that B2C or generalized email techniques are a no-move on your B2B campaign. But telling you what tactics not to apply without providing you with any way to design your B2B email campaign would not be very useful to you. Here's a way to nail your B2B email advertising and marketing campaign.
1. Your target customers' profiles
When focusing on a specific B2B company, you're focusing on that company's buying center, that is, those people who decide whether or not the company will acquire your product.
There are 3 primary functions in the buying center:
The first employees of a corporation to learn about and show interest in your product are known as initiators.
The personnel who handle the administrative and logistical parts of a possible acquisition, such as budgeting, contract terms, and renewals, are known as buyers.
Deciders are those who make the final call on whether to permit customers to proceed with a purchase or not.
2. Put yourself in buyer's shoes
You may better understand what kinds of emails suit each position by putting yourself in the shoes of each member of your target client's buying center with the use of a customer profile matrix.
An Initiator or User, for instance, will probably be interested in a "how-to" manual that relates to a part of the User's job. The same email would likely be deleted immediately if it were sent to a customer who dealt more with the purchase and renewal of a product than with its actual use.
Your emails will be more effective and generate fewer unsubscribe requests or spam complaints if they are more specifically tailored to the demands of your intended recipients.
3. Implement email segmentation
The idea of customizing emails for each person at a company is enough to make anyone feel very annoyed when conducting campaigns at scale.
You can categorize your subscribers based on their traits using email segmentation tools. These are integrated into the majority of email marketing platforms. Make lists for each buyer persona rather than organizing contacts by business or industry. You may reach every person on your target list with information tailored to their interests and requirements with as few as 6 segmented lists.
4. Stage-by-stage campaign planning
B2B customer journey should be shown in the B2B email marketing cycle. You can make sure that your emails are pertinent to both who your target is and where they are at any given time by organizing your campaign around the stages of the customer journey.
The buyer journey has 5 primary stages, and different kinds of content work best for each stage.
Despite being aware of your brand and goods, the target is not yet really considering buying it. The target can become more familiar with your brand by reading how-to manuals, eBooks, thought leadership, and other instructional content.
The target is particularly interested in your offering. But keep in mind that they won't make a decision until they have more information.
The target is interested in purchasing or trying out your product and is now weighing factors like their budget and return on investment to decide if they are prepared to buy. Cost estimates, price estimations, and free trials can all have an impact on your target market.
After a prospect becomes a client, your objective is to keep them as a customer by having them buy more products, renew their subscription, or take some other action. High-quality educational content and product tutorials can assist your target audience make the most of your product's capabilities and persuade them to buy more.
Loyal customers who are potential targets can support your marketing efforts by spreading the word about your products/ services and attracting new ones. Customers can become more active brand advocates by participating in surveys and referral programs.
Email templates are another helpful tool. They are the best example of working smarter and not harder  It takes effort to build a strong library of top-notch templates, but you'll be glad you did it when you can send hundreds of emails in a day and still be done by five.
You may execute intricate tasks with email marketing automation that would take much too long to complete manually.
For instance, you could program an automated to tag email contacts with any new information you learn about them, such as their job description and demographics. With just a few sort filters and a powerful tagging system, you can target incredibly niche audiences like "previous attendees in the Los Angeles area" or "executives in the biotech field."
Why a good B2B email marketing strategy pays off?
Learning how to actually excel at targeted B2B email marketing requires some time and work. But that investment is worthwhile. According to Campaign Monitor, the return on investment for B2B email marketing is 4,200% or $42 for every $1 spent when done effectively. Particularly for small business owners, email marketing is frequently the best approach to maximize your investment. Additionally, since email marketing is simple to automate, you may increase your profitability by completing more tasks while your tech takes care of those that would normally take you hours to complete.
It's true that B2B email marketing can be challenging, but taking the time to do it well pays off. Although the learning curve is steep, it is worthwhile to climb.
Why Your Company Should Have a B2B Email Marketing Strategy
Now that the definitions are out of the way. Why your business must implement a focused B2B email marketing plan.
The following data was provided by Salesforce.com, a multinational customer relationship management (CRM) business specializing in cloud computing and comes from 3 of the biggest players in the world of B2B email marketing. Each is pretty persuasive on its own. But when taken together, they ought to be sufficient for you to see the impact that a properly run B2B email marketing campaign can have:
The average return on investment for email marketing is $44.25 for every $1 spent (Source: Experian)
Consumer preference for email-based permission-based marketing communications is 77%. (Source: ExactTarget)
Email is the most popular method of sharing relevant content among B2B buyers (72%). (Source: Earnest Agency)
Simple logic should be used to interpret all three of these statistics. B2B email marketing increases engagement, that increases leads, that increases conversions, and finally increases revenue. Consider B2B email marketing as an additional tool in your arsenal of inbound marketing strategies. You are missing out, BIG TIME, if you aren't implementing this marketing tactic to interact with your customers.
Use a Comprehensive Email Marketing Tool
In addition to being affordable, email service providers have special abilities that can improve your emails at all potential touchpoints. Of course, no marketer manually sends a large number of emails at once.
Email marketing tools can be used to segment your audience, build email lists, run promotions, send bulk email blasts, ensure email deliverability, implement email automation, monitor metrics, and more. They can also be used to provide value to prospects and to send a large number of emails to a larger audience.
SendBuzz gives you lots of customization possibilities and guarantees that your emails are mobile-friendly. According to statistics, 35% of business professionals check their email on a mobile device. So, it is crucial to optimize your emails at all potential touchpoints.
B2B Email Marketing Examples
So till now, we have discussed a lot of email marketing strategies. We have listed below six  real-life email marketing strategy examples of well-known businesses:
1. Marketing on Social Media: Adobe
Although it may seem impossible for a B2B brand to stand out on TikTok, some businesses have succeeded in attracting thousands, if not millions, of viewers to their videos using high-quality content and a grasp of the platform.
For example, the TikTok account of the software company Adobe has 2 million likes and 262.3K followers.
The second video released by Adobe when it first joined the app received over 2 million views.
Adobe has been able o succeed on the platform because it produces interesting content tailored exclusively for TikTok's audience. All of Adobe's videos are succinct, enjoyable, and simple to watch.
2. Shopify's content marketing
Shopify, an e-commerce startup, creates a wide range of content offerings, including a blog, business classes, and community events. The brand's podcast, fittingly named Shopify Masters: The e-commerce business and marketing podcast for ambitious entrepreneurs, is one content channel that distinguishes the company.
The podcast focuses on entrepreneur success stories and provides helpful advice for launching a Shopify online store. The subjects covered in each episode range from "How Masks For Dogs Landed a Deal on Shark Tank" to "Disrupting the Soda Industry with a Healthy Spin."
Offering so much intriguing, relevant content for free is a great example of successful B2B marketing, which should always give value before trying to get something in return.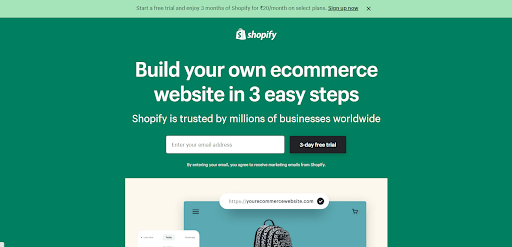 3. Email marketing platform: Mailchimp
The homepage of Mailchimp is simple to use, neat, and totally dedicated to the problems of its users.
Take into account, for instance, the first major text you see when you click on the website, which reads, "Get to work and increase sales.". "Engage your consumers and grow your business with Mailchimp's cutting-edge, yet simple-to-use marketing platform," says the smaller text below it.
The language is customer-centered, emphasizing how Mailchimp can assist customers in achieving their objective of expanding their businesses.
Customers can select whatever language they like to view the website in via a banner at the top of the page on the website. Content like "Get Your Business Online" and "Market Your Business" is even listed in the company's Products navigation menu.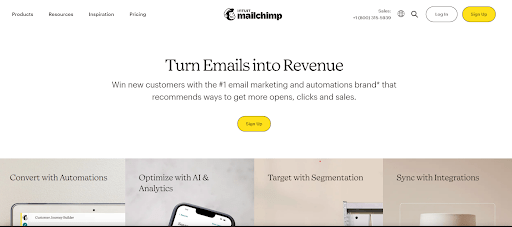 4. Testimonials from clients: Venngage
Venngage used its satisfied customer reviews as a decorative element on its website. This social proof shows potential customers that you have a history of dependability and have consistently gone above and beyond for your clients. Sharing customer reviews can also have a significant impact on prospects during the Consideration and Decision stages.
5. B2B SEO: Google, TravelPerk
A B2B buyer researches independently online for 27% of the time during the purchasing process, possibly using at least one search engine. Making sure other businesses can easily find you is worth the time and money investment.
A wide variety of SEO and sponsored search results are shown by TravelPerk. Its usage of topic clusters and sub-topics to connect with its target audience is an amazing SEO technique. TravelPerk makes sure that search engine results for terms like "business travel expenses" contain either a paid link to its website or highly-ranked blog posts with the information that users are seeking.
6. Inside Influence Marketing: IBM's Employee Advocacy Program with Influencers
The IBM Systems business group has observed the expansion of employee influencers and the value of employee voice as a B2B marketing tactic.
In the words of Ryan Bares, Global Social Programs Lead, "Finding ways to optimize influence internally is becoming a critical area of focus in the B2B marketing sector. We've all come to recognize that customers trust individual voices more than official marketing and advertising messaging.
Execute your B2B email marketing strategy with SendBuzz
Congratulations, you've just learned how to develop an effective B2B email marketing plan. However, in order to get this show going, you'll need a strong email service provider who can assist you get into the inboxes of your potential customers.
SendBuzz uses a solid infrastructure and intelligent machine learning-based solutions to help you increase your sender reputation and delivery rates. You can run automated email campaigns, transactional emails, and marketing campaigns. Additionally, results can be monitored with the aid of potent email analytics. Speak with a consultant right away to find out more about how SendBuzz can help you maximize your B2B email marketing strategy.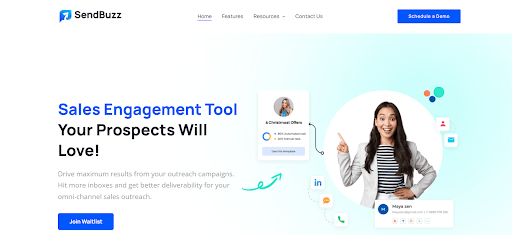 If you've made it this far in your effort to develop a successful B2B email marketing strategy, you're now prepared to take on a few fundamental email marketing strategies intended to strengthen your relationship with your present and potential B2B clients. Keep in mind that email marketing is by nature personal. It's almost like having someone's home phone number when you know their email address. Make good use of this information.
Want to Increase Response Rates With Sales Email Subject Line?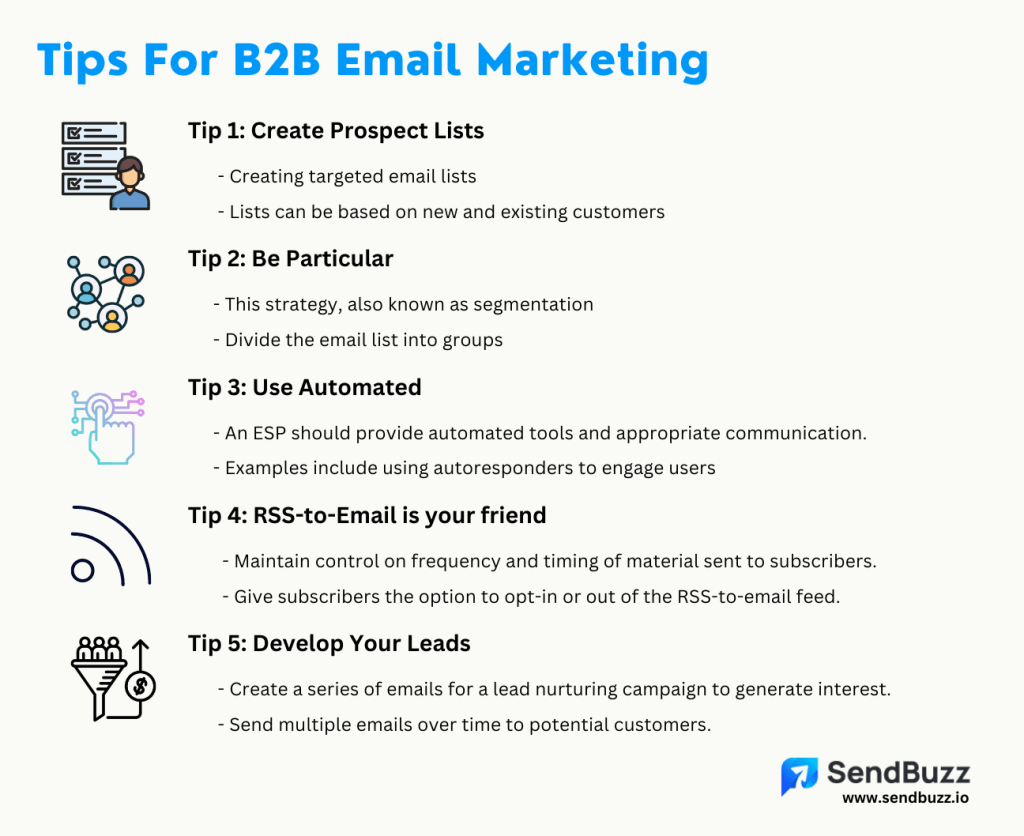 The email lists you create around a B2B email marketing plan are what makes it more relevant to the prospect. By carefully creating, curating, and categorizing these lists of email addresses, you can be certain that you've sent the right type of email to achieve your goals when it comes time for your emails to reach your target audience.
Many businesses compile lists based on both new and existing customers. Others create lists based on different resources. In the end, the lists you create will be unique to your company or industry and geared toward a certain goal.
This email marketing technique, sometimes referred to as segmentation, enables you to target particular email users with a particular invitation or message. To engage its most devoted business clients, for instance, a company might divide its email list into a particular group based on this marketing demographic and then send offers, blog articles, or event notifications to this group. Be prepared to spend a few additional dollars because segmentation is frequently regarded as a luxury service for an ESP.
An ESP should offer automated tools that enable timely and appropriate communication with your potential or existing customers. Using an autoresponder to contact a user who has downloaded content from your website or filled out a form is a fantastic example of automation. For instance, if a new user subscribes to your website's newsletter, you can construct an autoresponder that will get in touch with them to continue the dialogue.
Tip 4: RSS-to-Email is your friend
Imagine sending an email newsletter to everyone on your subscription list whenever you created a new piece of content for your company's blog. An RSS-to-email feed for your email marketing strategy is based on this concept.
The benefit of this tactic is that you are in complete control of when and how frequently you send your material to email subscribers. Give your readers the option to opt-in or out whenever you create an RSS-to-email feed. The reader will likely continue to check in each time your RSS-to-email feed activates if your information is still timely and of high quality.
Tip 5: Develop Your Leads
In order to generate interest in your company from those who are on the fence, you must create a series of emails that are sent out over time as part of a lead nurturing campaign. These are the individuals that are only kicking the tires and require a little extra encouragement.
As many emails as you wish to send your potential customer each week, month, or year can be included in a Lead Nurture campaign. By integrating blog articles or other types of material in these emails, businesses may effectively "dangle the carrot" and entice potential customers to return for more.
Include CTAs In Your Emails and Other Content
One of the elements of marketing most frequently employed is a CTA or call to action.
Any design feature that is used to elicit a prompt response from a customer or launch an immediate sale is referred to as a call to action. With the use of CTAs, you may turn potential customers into paying customers who may subsequently become repeat customers.
Additionally, you may utilize a call to action for anything that can result in a conversion or a story, not only for generating sales.
CTAs can assist you in increasing the number of recipients who click on and read your emails by including one in the subject line of your email.
The reader of your email newsletter may be deterred from pressing "unsubscribe" by your call to action button, and as a result, they may end up engaging with the information which the CTA has sent them.
Create High-Quality Content For Your Emails
Any B2B campaign's email communications must provide useful and pertinent material. Always keep in mind that the content of your emails must match the content you create for other digital campaigns.
Any marketing agency you choose to work with must prioritize quality over a number so that you can draw in decision-makers rather than slackers as new clients.
The quality of your product ultimately determines the success of your B2B email marketing campaign. If your product is poorly constructed, there will be little demand for it and no amount of marketing will be able to change that.
On the other hand, if you make sure that your goods and services are of the best caliber, you will have a solid basis upon which to build your marketing plan in order to draw in more customers.
Content in this context includes both the written text in your emails and your products and services.
Any written material should be brief, considerate, and respectful.
Mid-sized companies often spend $10 to $1500 per month on email marketing. You can send email newsletters for free with a very simple campaign and a do-it-yourself strategy. But most firms will pay up to $1000 on self-managed email marketing depending on the platform and subscriber count.
Want to grow your outreach? Try SendBuzz today!
In conclusion, B2B email marketing can be quite successful once you understand the key components that make it amazing and enable it to perform for you.
Start developing your own B2B email marketing strategy using the strategies and tips in this article and then put it into practice the way you want (and need) it to.
Keep in mind that when your company expands and changes, so does your target market. Therefore, your email marketing approach must adapt as well.
Having a successful B2B email marketing plan can help your company convert more leads into customers, boost revenue, and accelerate the pace at which you reach your sales targets.
Frequently Asked Questions
Personalize your engagement with prospects at the scale
Let go of the one-size-fits-all approach. Meaningful interaction with your target audience is the top priority for every sales rep. But this takes a lot of time and effort with hundreds of prospects to be contacted. Sending each of them personalized emails is nearly impossible. 
But sales engagement software helps your sales rep set up multiple sales sequences with hyper-personalized email and automated follow-up to hundreds of prospects with consistency. Doing so lets them achieve their email marketing campaign strategy goals.
Advanced email features of the software can be used by reps that will give them an advantage so that they can flow through the traffic on email and stand out.