For your cold outreach, do you presently use lemlist or are you looking for a lemlist alternative?
We may have something useful to offer you. While lemlist may be a good cold email software, moving to another software can save you hundreds of dollars a year and provide you access to more capabilities.
lemlist is missing a few key characteristics:
No integrated prospecting feature

Daily sending restrictions & limitations

No integrated email verification tool

No plug-ins
You can have a set of objectives for your cold email outreach and a certain budget to stick to. So, you need solutions that are affordable and offer additional features that produce results.
We have compiled a thorough list of the top 10 lemlist substitutes. This blog will give software comprehensive breakdowns of its main characteristics, cost, and evaluation. facilitating the selection of the option that best meets your needs.
What are the Top 10 lemlist alternatives then?
Let's find out!
1. SendBuzz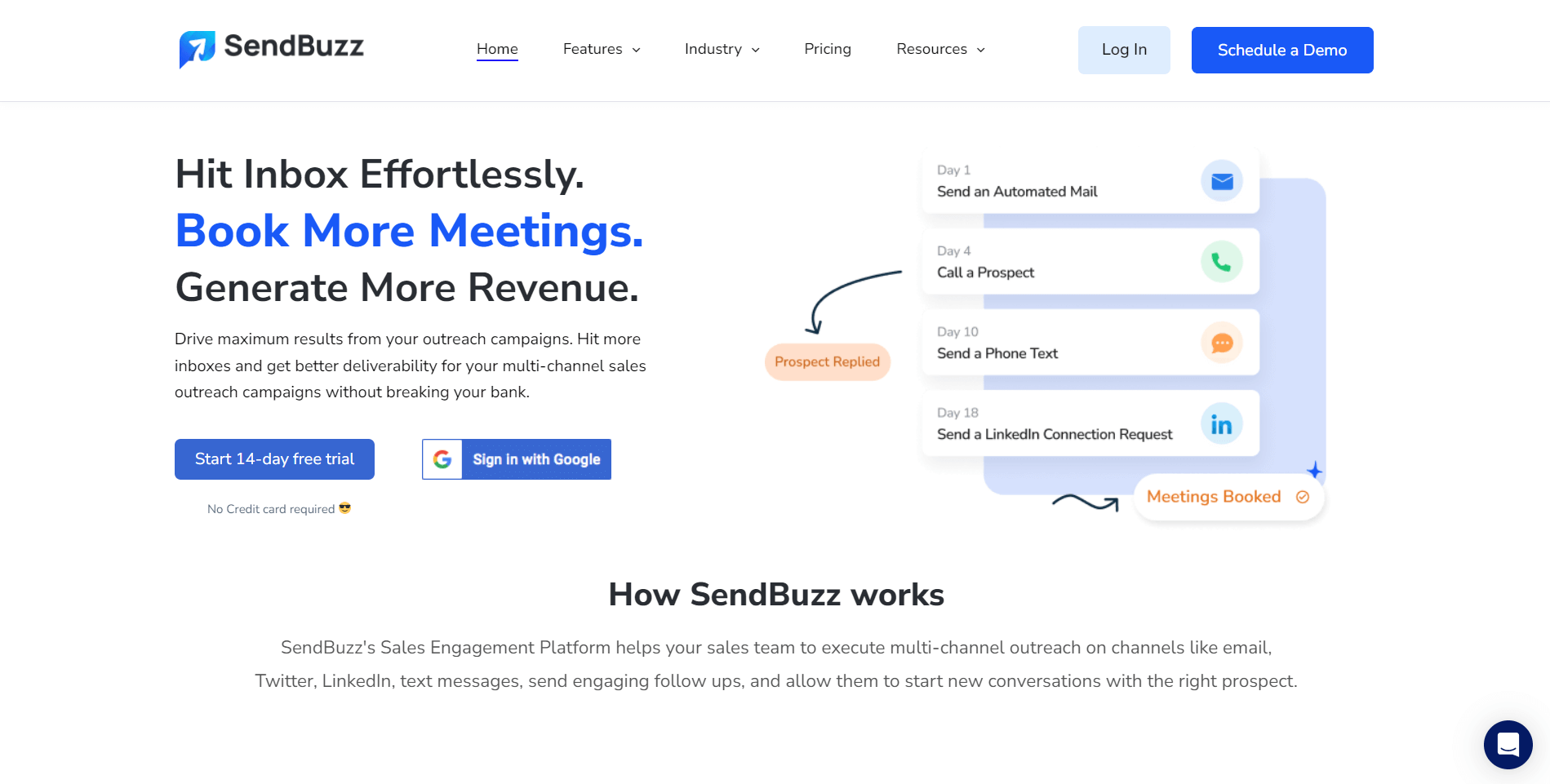 SendBuzz is a multi-channel sales engagement platform that uses multi-channel outreach to increase your sales engagements and hit your revenue mark while closing more deals using it's advanced features.
The software is loaded with capabilities that are designed to automate a number of time-consuming procedures and quickly provide high-quality leads. The price differential between SendBuzz and lemlist is what distinguishes them from one another and help you make your decision.
At a far better price, you get features that are missing in lemlist, features that can significantly improve your engagement with your prospects and leads.
Why SendBuzz is the best alternative to lemlist?
Better features of SendBuzz

Features only SendBuzz provides (Unified Inbox, Email Rotation, Cold Emailing)

Cost-effective pricing & plans

Campaign Playbooks 

Real-time customer support
Key Features of SendBuzz
Multi-channel Outreach


With SendBuzz you can engage with your customers across different platforms without having to do the tiring manual work and wasting your productive time.

Sales Reporting Tool


Get a dedicated reporting tool which makes your decisions easy when doing outreach through your campaigns

Tasks and meetings


In the tool , you can easily create tasks and even create meetings without jumping from one tab to another.

Lead Scoring


Prioritize the leads with automated lead scoring. Let SendBuzz segment your prospect while you focus on nurturing your prospect and getting them further in your sales funnel.

Sales Engagement


Get a layer of personalization every time you use SendBuzz. Save time by automating sales operations with right triggers. Run A/B testing and improve your campaigns continuously to gain better responses.

Unified Inbox:

Yes , with SendBuzz you can have access to all messages

from various communication channels, such as email, social media, and messaging apps

. Streamline your communication with SendBuzz that tools like lemlist fails to do. Get seamless cross channel communication that nurtures your relationships even better with your prospects.

Email Rotation:

By distributing the volume of your outreach among several accounts, Sender's Rotation increases deliverability. You can now connect up to 50 email accounts to SendBuzz (for rotation) in place of only one to get through spam filters.

Cold Emailing: SendBuzz offers artificial intelligence (AI)-based writing assistance for emails. While writing, you can receive real-time suggestions, which can assist you avoid using any terms that could cause your email to be marked as spam.
Value & Pricing
SendBuzz lets you connect with your prospect at the price that fits your budget. Start 14-day free trial now!

No credit card required.
Campaign Playbooks:
Get the best of the best examples , personas and tricks to increase your sales outreach with Playbooks provided by SendBuzz.
What are the campaign playbooks?
Campaign playbooks are strategic guides or frameworks that help you to outline a set of predefined steps, tactics, and best practices to begin a specific marketing or advertising campaign.
They are seen as a reference or roadmap for marketers to follow in order to achieve their objectives effectively and efficiently.
Real Time Customer Support:
A dedicated customer support is available to you now. They respond to you right away with a potential answer, allowing you to carry on with your outreach without having to stop and wait for it.
2. Woodpecker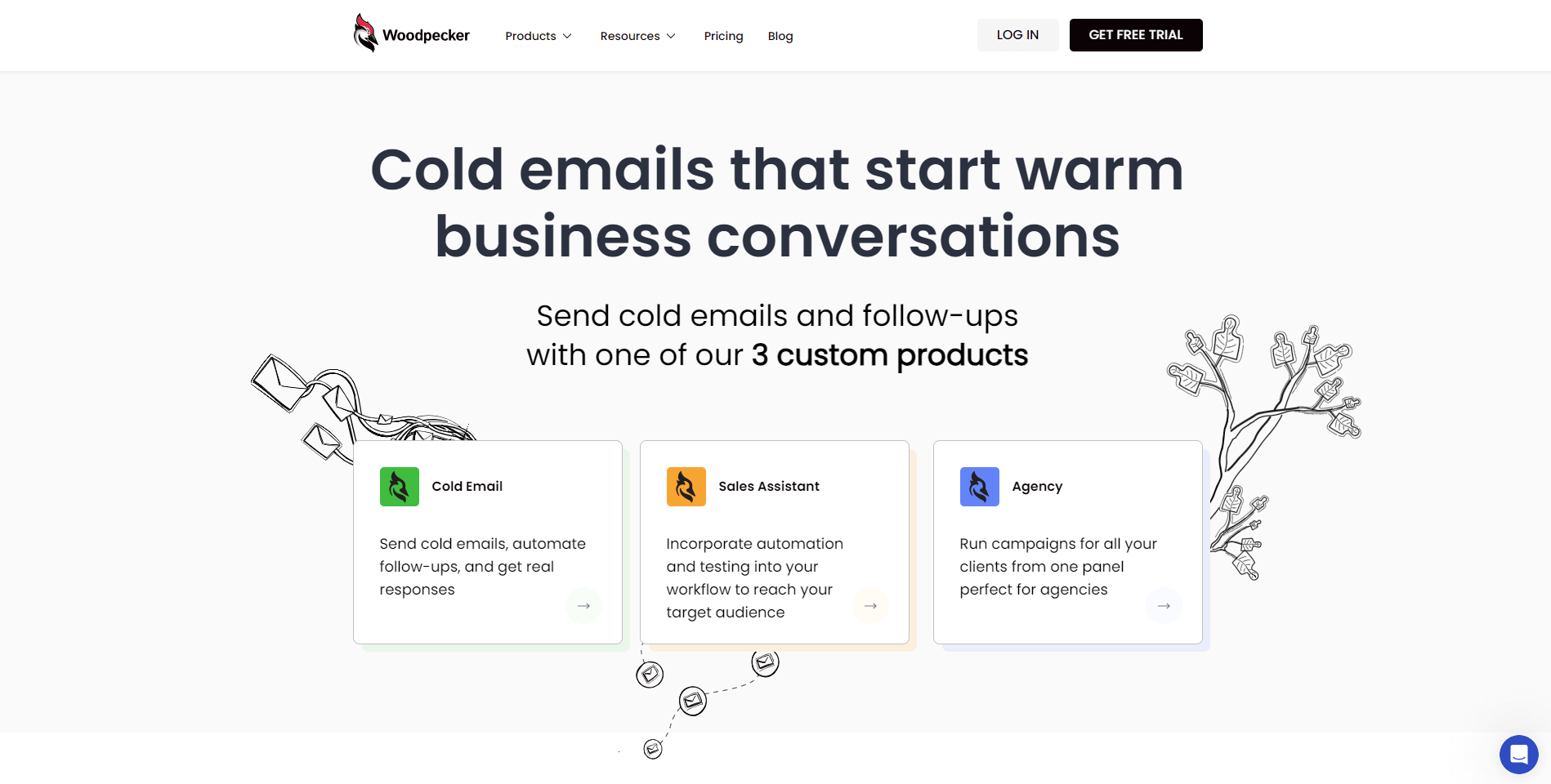 B2B enterprises can interact with their prospects and business partners with the cold email tool Woodpecker. Email sequences and customization are available through Woodpecker, assuring high deliverability rates.
Woodpecker's built-in email verification and validation mechanism ensures that emails go to their intended recipients, setting it apart from lemlist.
Features
Email verification and validation System

From the first day of your campaign, Woodpecker puts deliverability first in its email verification and validation system.

You won't have to be concerned about hard bounce rates or lower domain ratings because it has an integrated email verification and validation mechanism.

With these measures in place, you can halt underperforming ads and safeguard your domain rating.

Personalization

To avoid being marked as spam, the email's content is personalized using custom fields and sent at random intervals to appear more human.

Single-thread conversations

To keep prospects informed of the context and increase open/reply rates, all follow-up conversations are sent out with the same subject line "Re:".

A/B testing

You can build up to five different versions of your message for A/B testing inside the same campaign using Woodpecker platform.
Pricing
Available for a 7-day free trial with all features.

starting cost $32 (Monthly)
Reviews
4.4/5 based on 33 reviews for the G2

4.8/5 based on 19 reviews for Capterra
3. Mailshake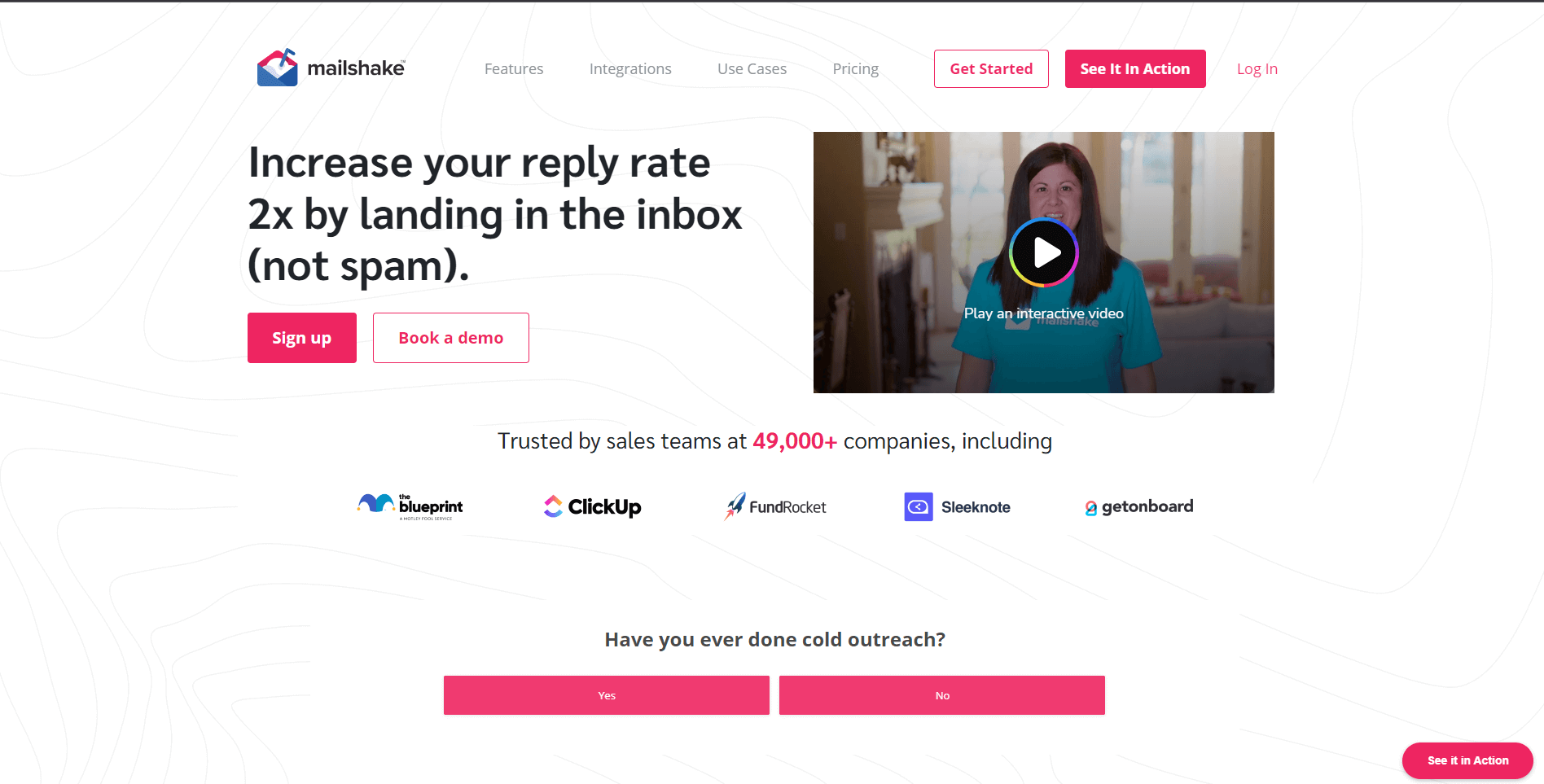 Mailshake is a sales enablement platform and email outreach tool. Which primarily integrates with user's Gmail and G Suite accounts. Email marketers and sales professionals typically utilize this technology to effectively plan, monitor, and personalize email campaigns.
Users flavor Mailshake because of its user-friendly interface. This software is simple to use and doesn't require any instruction, even for sales outreach or email newbies.
Features
Automated email outreach

Email outreach that is fully automated can be done in a matter of minutes. Campaigns may be tracked, personalized, and given a variety of sending options for automated follow-up.

Individual recipients can have their own customized sending schedules.

Analytical details

For each email in your campaign, track the open, clickthrough, and reply rates. Lead drivers in Mailshake for identity leads. To gradually raise your performance, use A/B testing.

Lead gatherer

Verify the recipients' email addresses to prevent hard bounces. With Mailshake's lead catcher feature, all leads can be controlled.

Additionally, you may get a bird's-eye perspective of every potential customer and how they connect with your business.

Utilizing their third party interfaces, automatically deliver lead data to the CRM system.

Dialer

Use the Mailshake dialer to make cold calls to your prospects. Call the US and Canada using VOIP. To boost campaign performance, record phone calls.

Multi-channel outreach sequences

Utilize LinkedIn and other social media platforms in your multi-channel outreach sequences.
Pricing
Email Outreach costs $58 per user each month

$83 (per user/month) for sales engagement

No free trial is offered
Reviews
91 reviewers give Capterra a rating of 4.2/5 to Mailshake tool

G2 has a rating of 4.7/5 after 128 reviews
4. Yesware
Yesware is a Gmail and Outlook add-on that serves as a comprehensive sales toolset for the sales teams. With Yesware, you can handle all of your sales needs on a one platform, from prospecting to arranging meetings.
Their platform for sales interaction enables sales teams to monitor, evaluate, and standardize what's effective for their organization.
Features
Email tracking

Receive alerts the moment recipients open your emails, click on links, or download attachments.

Close more deals by following up with hot leads at the appropriate time.

With the help of thorough analytics (views, average time spent reading emails, link clicks, etc.), you can determine which email content is effective and popular with recipients.

Meeting scheduler

To make it simple to set up and manage meetings, integrate Yesware's meeting scheduler with your Outlook and Gmail calendar.

Make receivers aware of your available times so they can choose ones that are convenient for everyone.

Emails confirming the meeting are automatically sent to the recipient and contain your own Yesware link.

Email templates

Create email templates that your entire team may use. Alternately, you can use the Yesware-provided pre-loaded templates for efficient conversions.

Campaigns across channels

Yesware enables you to design campaigns across several channels with various touch points.

For instance, the campaign's initial phase might involve sending an automated email, followed by a call, a message on LinkedIn, and so on.

According on your preferences, individual touches with distinctive cadences are offered.

Integrations

Integrations are available for LinkedIn, Salesforce, Gmail, and Outlook.
Pricing
$15 (per user/month) for Pro

$35 (per user/month) premium

Organizational $65 (Per User/Month)

14-day risk-free trial offered
Reviews
4.3/5 based on 162 reviews for Capterra listing of Yesware

G2 ratings stand at 4.4/5 after 720 reviews
5. Mailtrack.io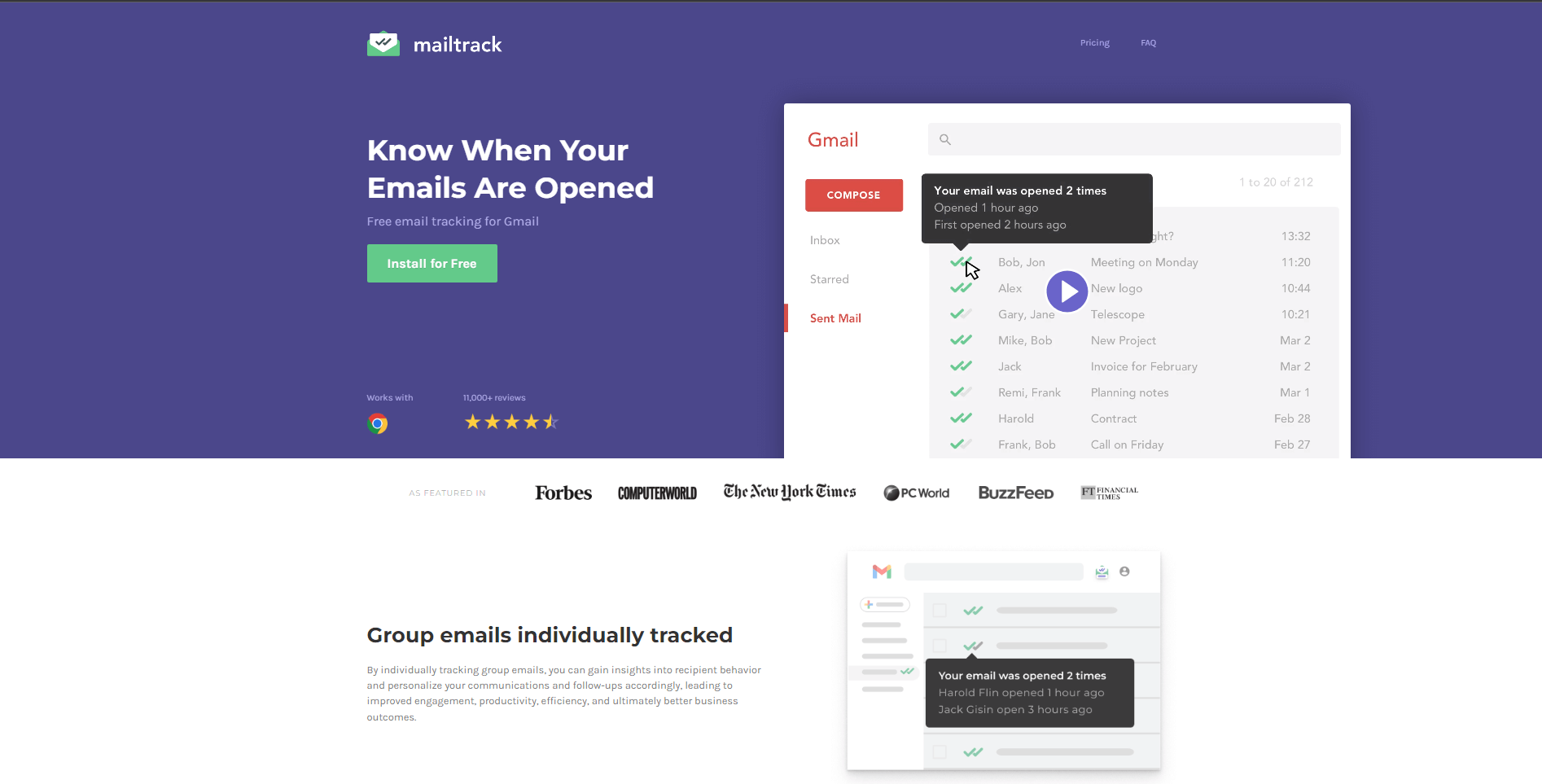 Mailtrack is an email tracking service with over 1.5 million subscribers that was created especially for Gmail. As it assists users in tracking their email through read recipients, open rates, link tracking, etc., the tool is frequently described as intuitive.
Features
Email activity

With Mailtrack, you can keep tabs on every aspect of your email. It also offers you real-time notifications and enables you to check how frequently your email has been opened. It is a simple integration for Gmail that is used to gain more knowledge.
Pricing
Pro $1 (Monthly)

Advanced $2.49 (Monthly)

Available in Free Version
Reviews
G2 reviews stands at 4.6/5 after 101 evaluations

158 reviews give Capterra a rating of 4.5/5 for their listing
6. GMass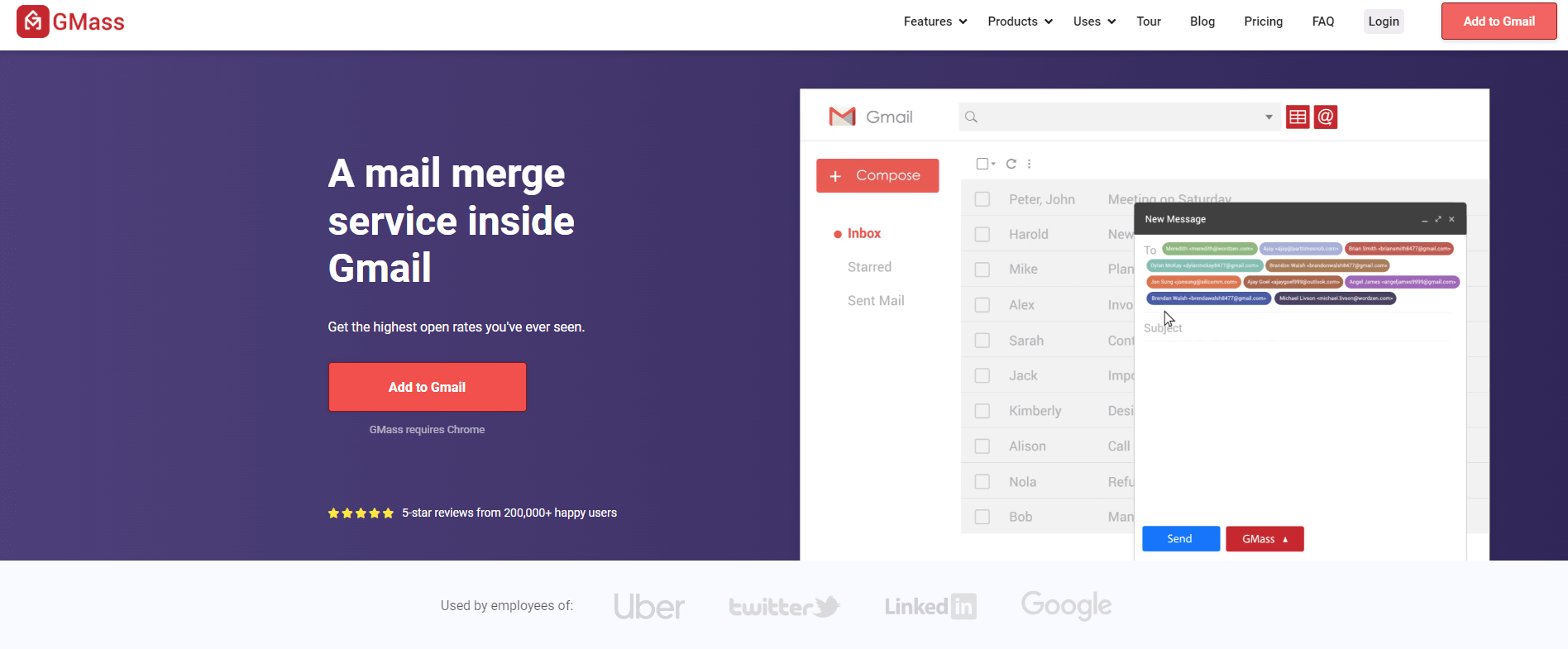 You may send and automate your email campaigns inside of your Gmail account using the GMass extension. According to reports, Google's own workers use this software. It only functions with Google Chrome.
Features
Mass email for Gmail

With their cutting-edge technology, you can send more bulk emails than what Gmail would allow. You can track opened, replied-to, bounced, and clicked emails with the use of their email reporting analytics. Both the PC version and the app both offer reports.

Automatic follow-ups and email scheduling

Set up automated follow-ups and scheduled emails (repeat, daily, or at a cadence of your choosing) to increase response rates.

Reply management

In order to reduce inbox clutter, a new tool called reply management organizes the responses from email marketing campaigns. The "GMass Reports label" categorizes messages so you don't have to sort through a ton of bounces and replies looking for warm leads.
Pricing
For Persons

Standard $199/year
Premium $299/year
Enterprise $499/year

For Groups

5 Users at $1250/year
10 Users at $2250/year
25 Users at $4950/year
40 users pay $8950 annually
100 users pay $14950 annually
Reviews
750 reviews give Capterra a rating of 4.8/5

4.7/5 based on 723 reviews for the G2
7. Vocus.io
You may send tailored cold email campaigns with the help of the full-stack email outreach tool Vocus.io. You can quickly schedule, create follow-up emails, and monitor the success of your campaign.
Features
File attachment

Whether it's your initial email or a follow-up email, you may easily include an attachment in the body of the email. Links cannot be inserted here, but PDFs and ZIP files can be simply provided.

Set smart reminders

Set intelligent reminders to your emails to ensure that you don't miss out on crucial conversations or lose track of potential leads.

Add your team

Team members can be quickly added to your project and given access to the necessary information. Together, this makes it easier to work on improvements or make more data-driven judgements.
Pricing
Basic: $5

Starter: $10

Professional: $20
Reviews
4.3/5 based on 12 reviews for Capterra

4.3/5 based on 15 reviews for the G2
8. Reply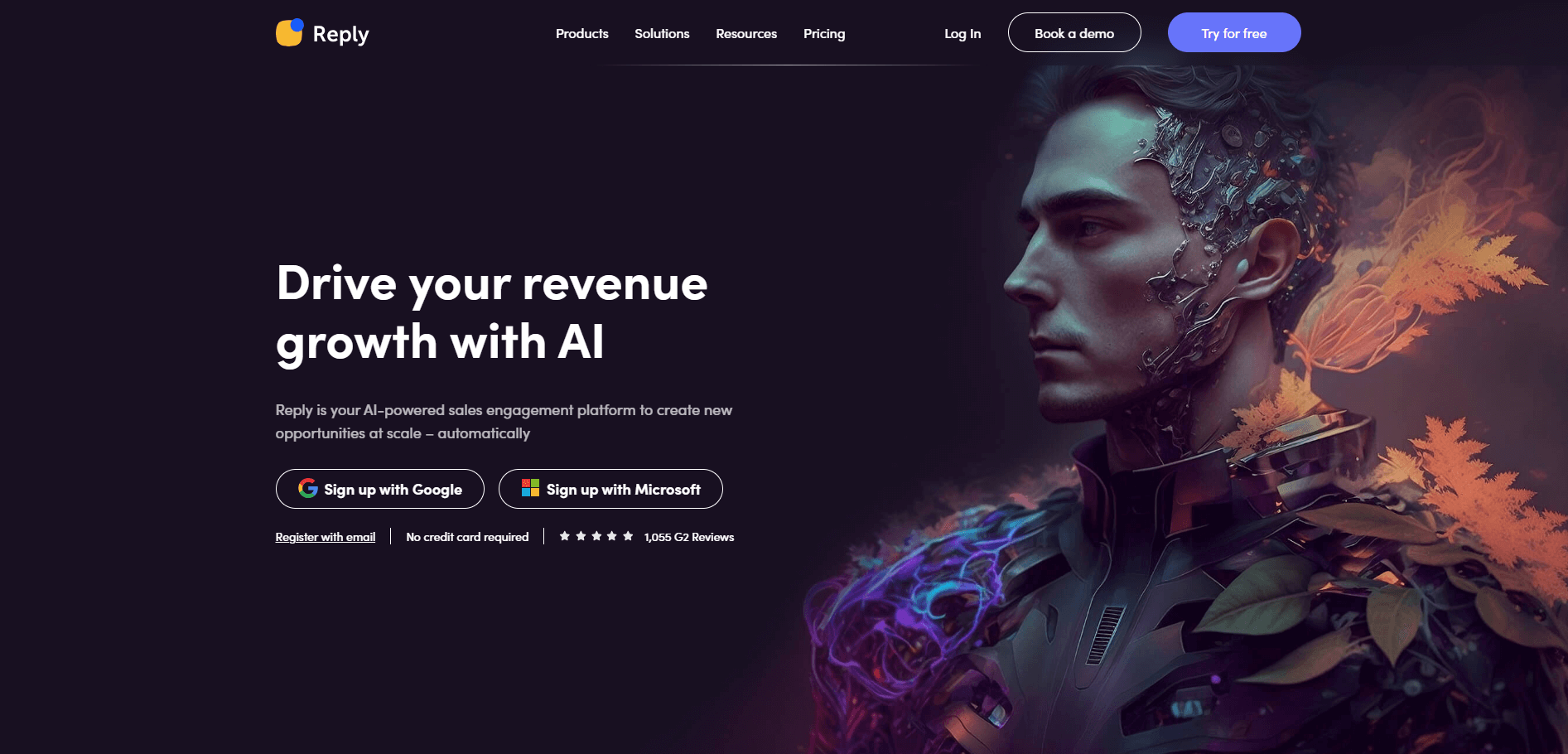 Reply.io is a multichannel sales interaction tool that automates your calls, WhatsApp messages, cold email outreach, and email search.
Users of the AI-powered tool can automate a number of sales procedures. Due of its straightforward user interface (UI), most people find Reply.io to be much simpler to use than lemlist.
Features
Built-in prospecting


You can add prospects directly from LinkedIn to a range of cadences with customised messages using their built-in prospecting features.

AI-backed technology


The programme is user-friendly and readily directs you in the proper direction thanks to its AI-backed technology. AI text quality scoring can be used to evaluate email content.

Through sophisticated email sorting in the 'Interested' folder, the AI technology automatically sorts the hottest prospects.

connections


Compared to lemlist, Reply.io has a far larger selection of native CRM connections, including Salesforce, Zapier, Vidyard, Pipedrive, Copper, etc.
Pricing
Startup Cost: $70 (Per Month/User)

Professionals: $90 (per user, per month)

Custom – requires consultation
Agencies
Agency pros pay $50 per month per user whereas agency newcomers pay $60 per month per user.

The above price solely applies to their sales involvement plan. They also provide 'Email Search' plans.
Reviews
G2 has a rating of 4.5/5 from 776 reviews.

86 reviewers give Capterra a rating of 4.6/5.
9. QuickMail
QuickMail is a solution that aids in the automation of your sales and marketing procedures. This programme actively runs in the background and gives you results so you can remain on top of your outreach throughout the day.
Similar to lemlist, QuickMail provides the inbox warm-up feature, but at a considerably lower cost.
Features
Inbox warm up


The majority of Lemlist alternatives do not have this feature. In order to make the most of your resources, QuickMail automates your email warm-up completely free of charge. Their Auto-Warmer starts email conversations and checks deliverability rates every day.

Auto-import from Google Sheets


Import your prospects automatically from your Google Sheets by using this feature.

Allow access to your Google Drive just once to simplify the importation procedure.

To save you time, QuickMail will automatically update each time a modification is made in the sheet.
Pricing
Free Forever (this has an auto-warming up feature)

Beginning at $49 (per month)

Pro $69.00 (monthly)

For paid versions, there is a 14-day free trial period.
Reviews
53 reviews give the G2 a rating of 4.7 out of 5.

4.8/5 based on 23 reviews for Capterra
10. Klenty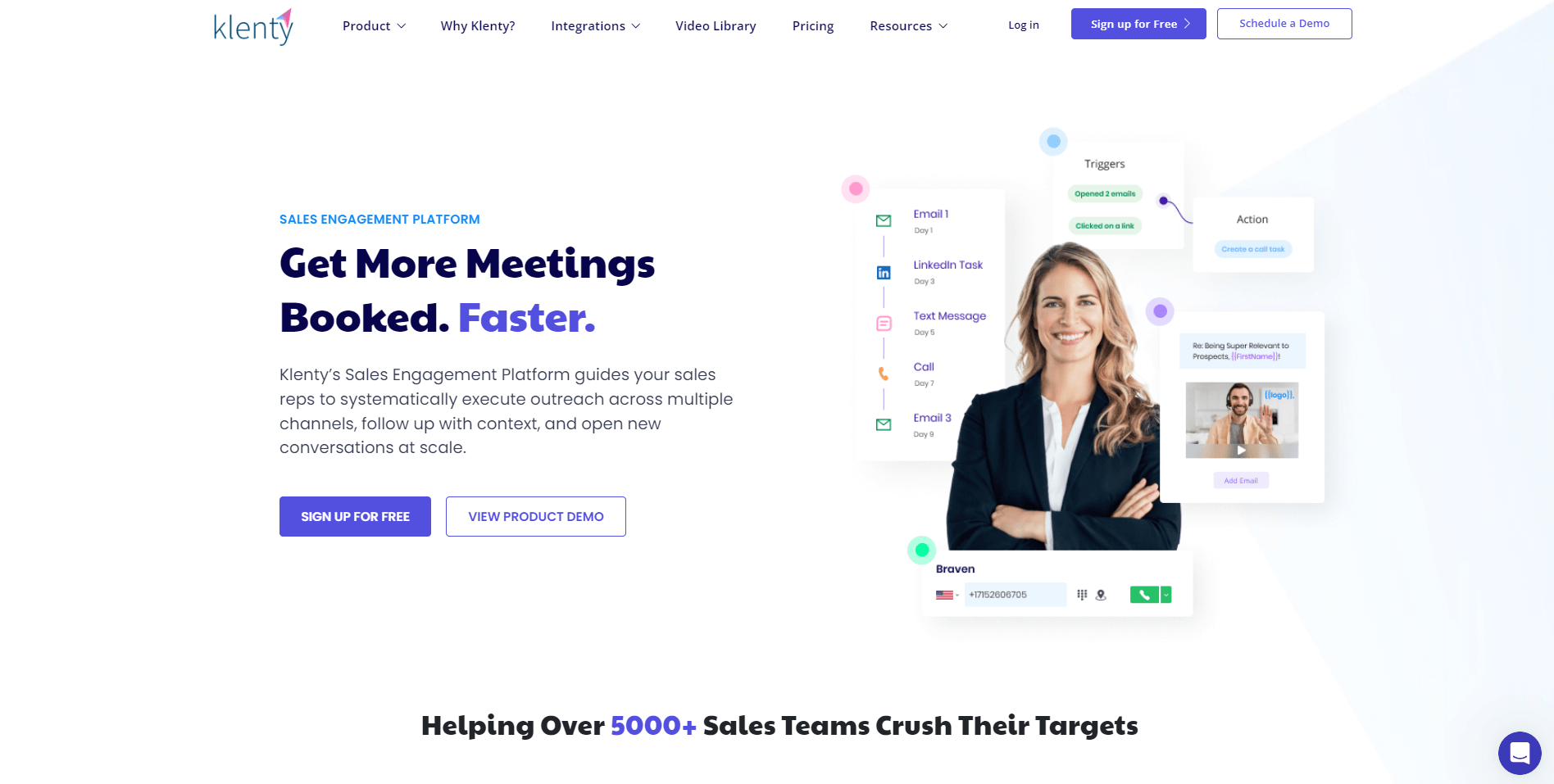 Klenty is a sales engagement software created to assist firms in streamlining email outreach procedures. Many users think Klenty's user interface is more simpler to use than lemlists.
Features
Easily identity prospect intent


With Klenty's cutting-edge technology, you can quickly determine which prospects are most likely to convert through buying intent. Such prospects can be easily moved into pertinent cadences and given the proper actions to turn them into paying clients.

Workflow automation


High-level integrations are supported and make it easier to automate workflows. Numerous native CRM connectors are supported by Klenty, including those with HubSpot, Zoho, Pipedrive, Salesforce, etc.

Detail-oriented


Klenty presents you with analytics that matter rather than time-consuming, complex reports. With Klenty's daily data, you can examine which cadences are performing well and which prospects have a higher level of buyer intent.
Pricing
Initial Startup Costs $50 (per user/per month)

Growth $70 (Monthly / User)

Enterprise Personalised strategy

14-day risk-free trial offered
Reviews
G2 146 reviews, 4.6/5 overall

4.8/5 based on 30 reviews for Capterra
Conclusion
We are confident that this list has provided you with a few pieces of software to think about. Consider a free trial before making a decision; this is always a good idea.
Since the majority of software provides a free trial, find out which one works best for you by trying them all out.