Are your emails not landing the primary inbox of your prospects? And you are confused why are your email going to spam Gmail that is affecting your email deliverability? 
Not to worry we have got your back. According to a study, there will be around 60 billion spam emails sent between 2019 and 2023.
It's clear from the stats that blindly sending emails to recipients is not going to work. As 20% of the emails will never reach out to the inbox which restricts your outreach towards the audience. This will have a significant impact on your email marketing campaigns. 
So, how can you stop your emails from landing into spam or being detected by spam filters?
Factors like email warming, focusing on target audiences, double opt-in can boost your email significantly.
Emails going to spam is a major issue for email marketers and sales reps as this can lead to the failure of your email campaign as well as affect the email deliverability of your inbox.
Therefore, in this blog you will know more about email spamming, how it affects email marketers and how can you stop your emails from going to spam?
Read on to boost your email deliverability.
How does your emails landing in the spam folder that is affecting your email marketing campaigns?
When the emails that you send to the recipient land in the spam folder then it becomes a spam email. These emails can be sent by humans and chatbots. It is also possible that your emails are marketed as spam by the recipients because they are not relevant to the subscriber. Another reason could be that your emails are not warmed up.
So, what is email warming?
Email warming is the process of sending increasing number of emails gradually to the recipients. This helps the ESP's know that you are not indulging in any unfair practices like spamming, phishing or other such practices.
Generally, when you send larger number of emails from a new email address to the subscribers the ESPs like Gmail and Yahoo may take you as a spammer trying to cheat the subscriber. Therefore, it's important to warm up the emails to improve its email deliverability.
Email marketing is considered to be one of the most effective ways to reach out to the prospects. But if the technicalities are not considered it would affect the authenticity of the email addresses. Once the authenticity of the email is at stake the email reputation will go down.
To improve the email sender's reputation its essential that you update the domain authentication of your official email addresses. You should configure the SRF, DKIM and DMARC records.
Generate more qualified leads with cold outreach!
How can you stop your emails from going to spam or getting detected by spam filter?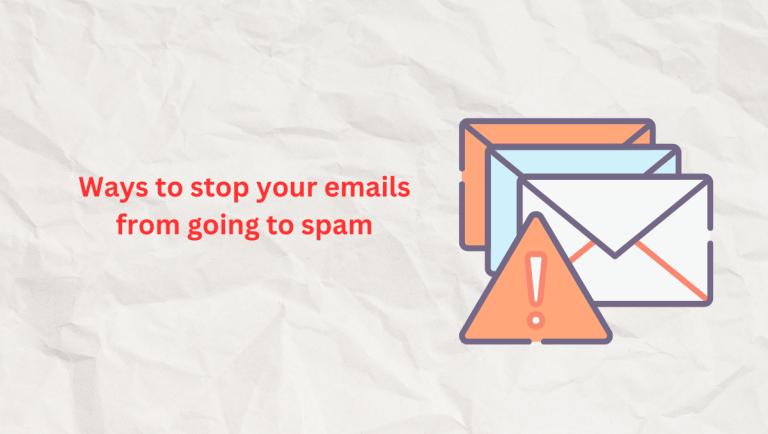 There are various ways in which you can stop your emails from going to spam to boost your email deliverability. Some of the ways are listed below that will help you protect your email reputation:
You are targeting to wrong audience for your email marketing campaigns

It's a common notion that email warming is only limited to gradually increasing the number of emails that you send daily. But that is not the case, recipients' engagement with your email is also important.

Hence, maintaining an email list for a high engagement rate regularly supports the email marketers. However, focusing on fetching the right kind of audience rather than getting more subscribers would make your work easy.

Ask for permission from the subscribers to boost your email reputation

The foremost rule of email marketing is asking for the permission of the recipient. This is possible if you build your email list that has recipients who want to receive your mail. Buying an email list full of various email addresses tends to violate the CAN-SPAM Act and may be subject to punishments.

Hence, you will be fined thousands of dollars, if you are going to send bulk emails to people who haven't provided you permission.

Avoid using IP addresses that is being marked as spam by prospect or spam filters 

If you are using the same IP addresses that is being marked as spam by many recipients the possibility of your emails landing in spam box using the same IP addresses is high. However, email marketing services follow rules and regulations to restrict such kinds of actions. Still, you need to stick to a reliable email service provider for eliminating such kinds of actions.

Low engagement rate 

We already discussed the necessity of a high engagement rate. Many top webmail service providers have asserted that the number of emails opened and deleted by the recipient is a factor in spam filtering decisions.

Hence, if your emails have very low open rates or read rates it is higher at risk of being considered spam. For this, you need to create an inclusive strategy. As these strategies, would significantly affect positively on your email reputation.

Using misleading subject lines

According to the CAN-SPAM Act, it is a wrongful action to mislead the audience with the subject line of the email to persuade the audience to read your message. And this also decreases the trust of the prospects.

Therefore, while you write a compelling subject line it's important that your subject line does not misleads the prospects.

Subscribers don't recognize you

Another common reason for email spamming your mails is the tendency of your subscribers to forget you. Every time a subscriber reports your email as spam, the mailbox counts your email as spam whether it is or not. After exceeding a certain number all your emails will go to the spam folder instead of the inbox tab.

The main reason for considering your emails as spam is that they do not remember you. Even if they provide you permission, but don't remember you and consider you as spam.

Email spamming is a problem either for the receiver or sender or both. In that case of email marketers, each penny you invested in sending the emails to the prospective audience gets wasted.

Many email senders or spammers check out and improve their messages to trick the receiver and they download the malware, share data or send money. Though, spam emails are always commercial and led due to financial intentions. Spammers intend to promote and sell goods and services which are based on false claims and deceive receivers.

Fortunately, there are some potential methods to keep your emails away from spam folders. In this section, we will learn more about those methods.

Borrow assistance from a Lead Verification Service

The primary advantage of using a lead verification service is their algorithm. It also helps you in verifying the email addresses of your users in order to create an effective email list. Due to the lead verification system, you can also block email submissions. This will help in saving tons of money on a long-term basis. 

Seek the right audience from the initial stage

It is already mentioned above that striving for the right audience is the most important technique to avoid email spamming. For this, there are so many options for targeting the rightful audience, such as Referrer Detection, Geo-Location Targeting, Page-Level Targeting, and Cookie Retargeting.

Use Double Opt-ins to increase your email engagement

The double opt-in feature supports your email for not going to be spam. It allows your users to confirm whether they like to be added or not to your email lists after they opt-in.
Want to grow your outreach? Try SendBuzz today!
Conclusion
In the tech world, email spamming is coming out as a problem for both email marketers and receivers. We have mentioned possible reasons leading to your email landing in spam folder or being detected by spam folder. Following the above reasons will lead to significant improvement in your email marketing. However, it is very necessary to fix this to get maximum benefits from your email marketing and strengthen your email reputation among your and increase the trust in the audience.